Npp's delegates' conference; a plus for Ghana's democracy.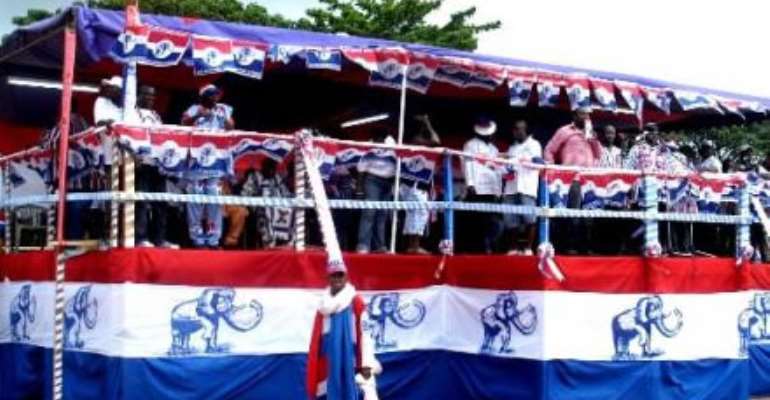 The recent delegate's conference by the New Patriotic Party (NPP) which saw Paul Afoko being elected as chairman, John Boadu organizer, Sammy Awuku, youth organizer, and Kwkebena Adjei Agyapng as the party's general sectary is a victory for Ghana's democracy.
A victory for Ghana democracy because I think they have elected affable personalities with analytical capacity to steer the affairs of any political party in Ghana currently yearning for power.
For me three things obviously informs my decision to congratulate the 'osono' party which are; the able manner in which they conducted themselves under the constitution of Ghana to invite the electoral commission to supervise their national executives elections, the manner in which they managed their egos during the campaign and, the choice of Tamale as the venue for the conference.
I believe Choosing Tamale alone has cleared one of their hurdles to win power even before the national campaign for power to rule Ghana resumes.
Apart from the good choices the delegates made on behalf of their party members it's also good for the governance of this country as those elected are likely to form the core team of the executive arm of government if they win power come 2016.
I am confident Whoever becomes their presidential candidate already have men capable to put Ghana on its development path based on sound argument those elected have exhibited on political platforms.
What is also worth commending is also the campaign issues which nerealy maared the democratic aclade of the party that one thought would have caused deep holes in the party structure during and after the voting rather has strengthens the formidability of the party.
I am happy to learn from the NPP conference that what the Ghanaians politician need to to win power is a Team who can aggregate and articulate issues on the provision of basic necessities like water ,energy ,education which is in constant shortage and deplorable and not how loud he speaks harshly or insults leaders or political opponents.
So therefore political party executives which hither too thought engaging and attacking individuals unnecessarily at least dissent will win them power should take clue from what happened at the the NPP delegates' conference where 'the mighty fell flat and the sober stood tall'.
I have listen to all the three men with the exception of the chairman when it comes to serious political discourse meant for the nation development and therefore have no doubt in my mind that they have what it takes to address issues affecting people of Ghana if they gets the opportunity.
I therefore use this opportunity to congratulate the great 'kukrudite' for selecting executives who can use the contest of ideas in politics to ensure they beat their opponents in all sound and conducive political platforms.
The ball is now in their court to work hard to aggregate and articulate the interests of their party for Ghana development to their 'die hard' supporters and to grab the floating voters who decides which party wins power in Ghana.
However I expect a good contest for political power come 2016 as politics of insult resulting to violence has in some extent giving way for clean political discourse on how to solve problems affecting the people of Ghana.
Notheless It is my hope that NPP uses its vast experience in Ghana politics and democratic dispensation to appeal to the masses which heather too vow the party as preserve of a particular ethnic group .
That exercise if well engaged would bring bach massive votes of those who were made to believe in that lie and run away.
Engage in massive education to reinforce the united party ideal you are made since the early days of political parties in Ghana.
Wishing you well in your quest to see Ghana develop in freedom I say Bravo, eshie, bravo kukurudooo!
Opayin Okyere- Fianko
Marine Railways and Ports
Tema