Missing Babies, Wrecked Booths And Broken Gears: Critical News, 23rd February 2014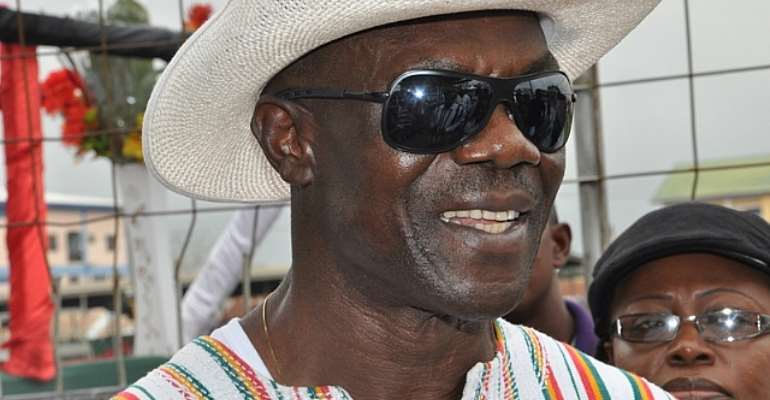 Exactly a day short of a year today, President Mahama refused to acknowledge the Election Petition challenge in his State of the Nation Address. His concerns on that day were "dumso dumso", water matters, unemployment and security problems. Now, with the election petition gunned down, the remainder situations are becoming culture. No solution to the water crisis, "dumso" is back, unemployment is raging mystified and National Security is in your community space with "rambo" style early morning raids.
I disagreed with JDM's State of Nation 2013 and I disagree with him again this year as he worsened the matter and postponed his address to the Nation. For no reason. "Unforeseen circumstances" means, "I am not in charge of my situation". It means there are other concerns far more important than this, but I will not explain, in case you think it is frivolous.
Anyway, we have a date for next Tuesday 25th for the Constitutional State of the Nation address. Whether JDM will honor his promise to the people of Ghana is another matter.
It's not as if the State of the Nation address is such a critical policy statement, but it reflects the President's feel for where we are and how much pain he shares with the rest of us. In actual fact, it is an assessment by the people of Ghana of how connected the President is to the plight of livelihoods. We are very clear in the pain and relief we get in our day-to-day "abrabo". If our President cannot feel and touch our suffering, we know which way to turn our thumbs in 2016.
So he will not be telling us the state of affairs, we know that already; it is we who will be judging his sensitivities; and "unforeseen circumstances" tacitly admits to a vacuous state not worth recanting.
Had he delivered the address last week, we would have spared him the responsibility of "dumso" and now no water. President Mahama has "taken" our light, Vice President Amissah Arthur has "taken" our water and Lt. Col. Gbevlo Lartey has taken Prof. Aryeetey's Toll Booth.
As I spoke to residents of Adabraka who had straddled the gutter on Brewery Lane, yellow "kuffuor" gallons queued up for a dribble they must of necessity afford, the message of despondency was clearly mapped. From one year to the next there is a litany of excuses from politicians, asking us to allow more time while they resolve self-inflicted chaos and economic tumult.
There was this one house along the street, an oasis within an Adabraka drought, doing brisk business on a Saturday morning, selling desperate residents a waterline for the day.
And this is the state of our nation. Basic needs not catered for, the more complex needs of a depreciating currency relegated to Economic and Organised Crime officers, and a pledge to all Ghanaians that the Almighty has our back and will take care of all problems even before they loom.
And the Cedi depreciation cannot be a spiritual or national issue. It is underpinned by Government policy and choice of financial management. Former MD of Ghana Commercial Bank and running mate to Paa Kwesi Nduom of the PPP, Mrs. Eva Lokko protested when the IEA's forum to discuss the reasons and possible solutions, by Dr. Anthony Akoto Osei and Fiifi Kwetey descended into a blame game. "…they can argue either way, and that is not helping us. This is a national issue; it is not a party issue, but we've been hearing two parties' names being bandied around and I am very sad about it". I disagree with this line of thought. Policy choices are party choices. They call them manifestos. The economy is a mess today because of NDC Government direction over the last 5 years. There really is no need to rake in the opposition and the rest of Ghanaians in order to divert our concerns to a "black African's malaisse".
CHRAJ has asked me to attend a meeting to talk about my GYEEDA petition. The Council of State has not acknowledged my request to pressure President Mahama into an independent and proper investigation into GYEEDA and refused to meet me last Tuesday when I dropped by their office. This is month three, counting their ex-gratia and stipend.
On Friday 21st the first Deputy Speaker of Parliament, Ebo Barton Oduro, was compelled to adjourn parliamentary proceedings when the Minority members walked out of the chamber, called for adjournment, no quorum, only 61 of them went to work that day; and described the Finance Minister as incompetent. We might need to start a campaign to attract more concerned persons to Parliament.
On the ECOWAS trail, Nigeria's Central Bank governor Lamido Sanusi has been suspended by Goodluck Jonathan for "financial recklessness and misconduct". He is going to court to make his case clear.
And I wished the Legon University would pursue their case with National Security, but they dropped everything in exchange for a promised refund of their road costs, which they should know will be long time coming or will never appear. Man! They should have tested Gbevlo Lartey's mettle for a court confrontation. I feel rather let down; we haven't had a Brawn v Brain fight for so long and the booth is wrecked. I traveled one cedi worth through Legon during this time, and I think I am entitled to a refund.
But the Komfo Anokye Teaching Hospital (KATH) raid by community youth is an aberration on our society. Certainly KATH is wrong by not producing the baby especially with Family of the baby disputing claims by hospital staff that the baby was dead and had been burnt. One of them threatened to invoke curses on the hospital staff, the police, and any other person who may have come into contact with the baby. Because, you see, it is not a matter of procedure gone wrong, it is about the suspicion of using the dead body for rituals. Such too is the state of our Nation.
I think the gears in the economic engine chamber are broken, we are seriously stuck in first gear and we will be stuck in first for a long time. The Government says wait till 2016 and you will see our work, but my Nation State is crocked.
We buried Komla Dumor over the weekend. The personal loss is deep for wife and family, deeply wounded by the sudden wrench from their world. But Komla left a legacy and broke a glass ceiling for other Komla's to follow. He achieved his lot in this short life, may his soul rest in perfect peace.
And because life can be brief and abrupt, let me mention as a Diabetic that I responded to the launch of SOYABETIX a few months ago. It is touted as a health drink for managing your sugar level and I can say as I stand today that it took only three weeks to show results. My blood sugar dropped dramatically and has been under control since. Any Diabetic will relate to what I am saying. You cannot claim a cure for Diabetes yet, but we might be on the verge of a wholly Ghanaian raw material based product making that claim. Let me share the knowledge. Visit their website www.hordslimitedgh.com, the product works and I am living testimony. Two teaspoonfuls, three times a day. Couldn't be easier.
Bukom "the philosopher" Banku is finally going to fight Ayittey Powers on April 12? Our local "Ali v Frazier" media banter has raged for long enough and we are as close as one can be to "Kukurudu in Bukom". Banku is favored in the fight, but this is boxing and like football, favorites can be totally overwhelmed on the day. Mark the date, and here is one of Banku's favorite quotes ahead of the fight. "When a witch fly at night, something happens to the mango tree, you can ask the clouds". Lol.
Ghana, Aha a ye de papa. Alius valde week advenio. Another great week to come!