President Mahama Receives his Copy of A Call for a Ministry of Ghanaians in Foreign Lands with Two Subsidiary Parliamentary Seats from each Continent.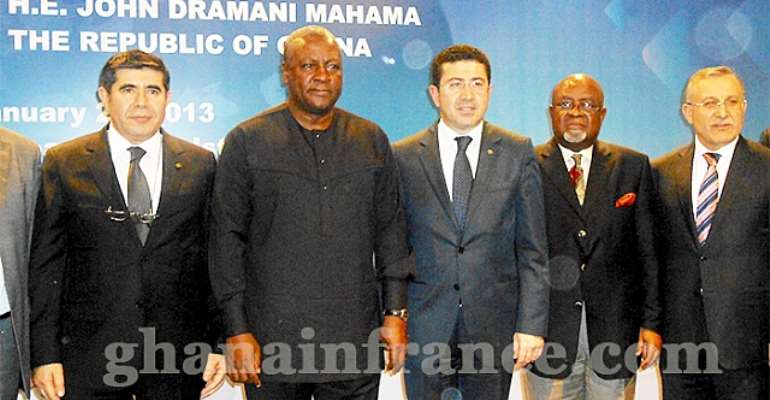 The President of the Republic of Ghana, H.E John Dramani Mahama, received an autographed copy of the book of hope for Ghanaians in Foreign Lands on Wednesday 23rd January, 2013 in the Foreign land of Turkey at a meeting with Diasporan Ghanaians and accredited Ghanaian Diplomats. Also present were the Minister of Defence Lt-Gen. Smith and Ghana's Ambassador to Turkey. Hon. Hannah Tetteh (the appointed Minister of Foreign Affairs) had also received a copy from the Author a fortnight ago in Istanbul, Turkey. She promised to read it rapidly.
The good news is that, in spite of the extremely busy schedule of his State Visit, President John Mahama who received a copy through his Defence Minister 10 hours before the autographed copy was presented to him by the author,( Mr. Osei Mensah Michael) said at the meeting that he had read the book.
In his response, the President made reference to a diasporan unit created at the Ministry of Foreign Affairs. He also said, giving heed to the call, will require constitutional amendments. In his concluding remarks, the President told the author to keep convincing him.
The President's message is clear; Ghanaians in the Diaspora who identify themselves with this call must keep convincing his Government. The constitution of Ghana was made to help Ghanaians; and amendments that will benefit Ghanaians can be effected in it. The Ghanaian diasporas played a formidable role to constitutional amendments on dual citizenship Act 2000, and also on elections(ROP Act 2006-(Act699) This book is a way forward setting the vision to advocate for an institutional structure on diasporas issues. Get your Copy, make your submission on the petition page, sign it and mail it to the author. His team will work to « convince » the Government of Ghana with it. Let us remind ourselves that on the average, every Ghanaian family has a member in the diaspora. This call is therefore, a universal Ghanaian concern.
Below is a short speech read by the author during the presentation.
H.E. President John Mahama,
My name is Osei Mensah Michael. I live in Paris but I flew in here to Istanbul in Turkey to deliver to you a copy of a book that I have published. The Title is:
« A Call for a Ministry Of Ghanaians in Foreign Lands with Two Subsidiary Parliamentary Seats From Each Continent. »
Mr. President we the Ghanaian Diaspora have become the nation's greatest offshore asset but, the question of how to harness our full participation in the nation's building remains unanswered in spite of the numerous efforts already made.
For your information, the Afro-French media made a lot of noise for this book during your inauguration.
Your Excellency, the wish of many Ghanaians in the diaspora is that, government gives heed to this call not only to make our dream to vote in elections materialize, but also to review the commitment government needs to attach to the great pool of Talented, Skilled and Patriotic Ghanaian generations lost to Foreign Lands.
Mr. President, here you are with an autographed copy of my book. May God grant you the energy and wisdom that you need to lead our dear nation.
God Bless Ghana.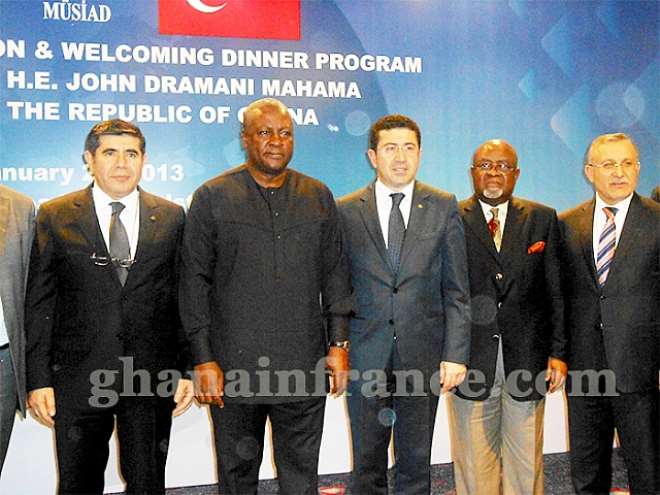 President Mahama and Lt-Gen Smith, Minister of Defence with MUSIAD leaders in Turkey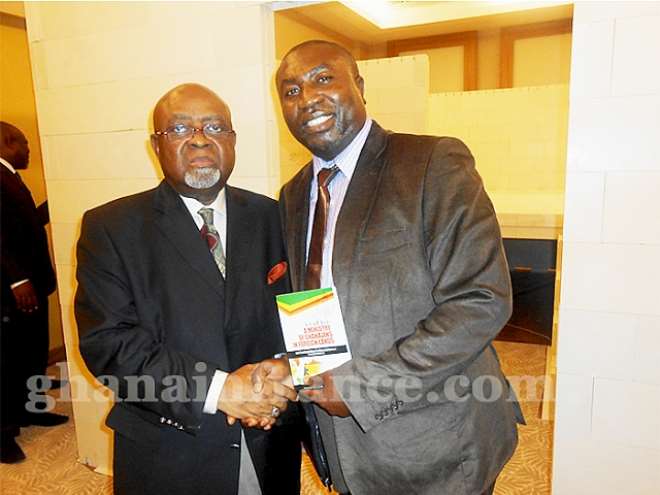 Lt-Gen Smith Receiving the Book for President John Mahama in Turkey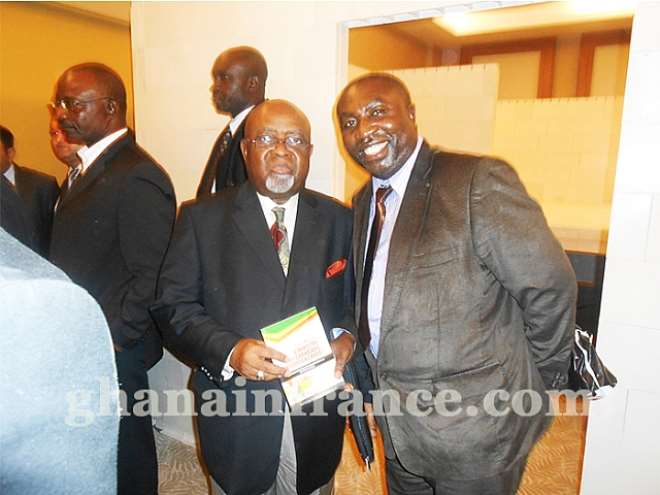 Mr. Osei Mensah and Gen Smith in a camera pose with the Book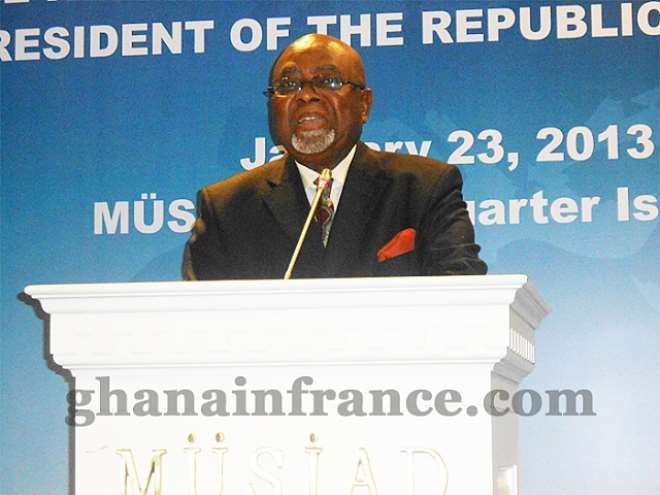 Lt-Gen Smith, Ghana's Minister of Defence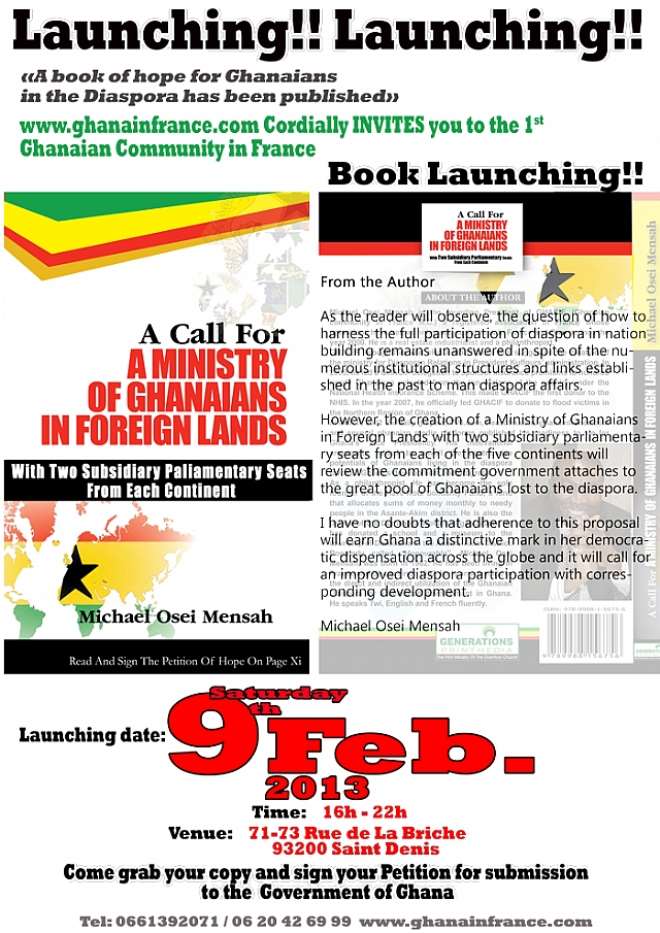 HON-BOOK