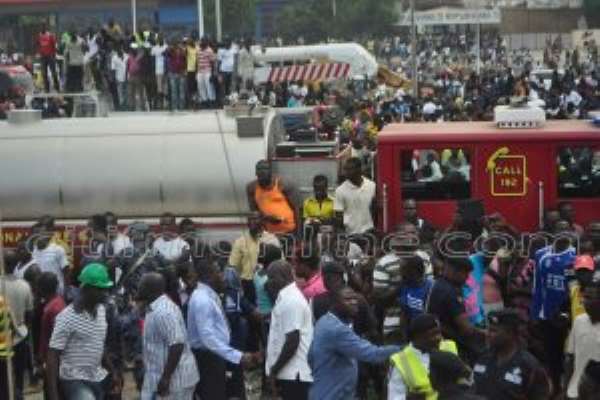 Scenes From The Melcom Disaster
We are all shocked by the Melcom shop disaster that has claimed the lives of many with a lot more people injured and hospitalized as well as many who are traumatized by the event.
In times like this, Ghanaians have the tendency to rush to judgment and apportion blame. We did the same thing during the stadium disaster and we are repeating it now.
Many are the people calling for the head of Acrra Mayor to roll, others want Melcom managers to face the full rigors of the law whilst still, and many others are blaming the owner of the building and the building inspectors in the City of Accra.
Yet we as a people, in the face of pain and trauma are forgetting who we are and what we do to ourselves as a nation.
The Mayor of Accra has done nothing wrong to deserve removal from office as people are ridiculously calling for.
Mayors do not issue building permit neither do they go round the city they govern checking to see if new buildings have permit or not, Cities have building departments and inspectorate divisions that do that job and if they fail to discharge their assigned responsibilities, they must be held accountable and not the mayor.
Melcom management was looking for a suitable commercial space to do business and they found one building fully completed and capable to serve the purpose they needed the building for, they are not responsible if the building they rented is structurally weak because materials used in the construction were stretched thin.
After all, they are businessmen and not building engineers. How many Ghanaians, including the government call building inspectors to inspect buildings for structural efficiency before they rent it? It is not something we do.
I think that in the mist of all these melancholy, we must do some soul searching and find out what is wrong with our society and attempt to correct it instead of prescribing any cosmetic solution that seeks to make scapegoats out of innocent people.
Imagine you have a plot of land and have come up with money to start a building, you apply for a building permit and it takes forever. What do you have to do? Blow your money away on other things or go ahead with the construction without permit?
I personally applied for a building permit 15 years ago in Accra, till today, I have not got it, and the building is completed and put into use. I tried to register my plot and for 15 years, the registration documents have not been received after every charge was paid.
I applied for electric meters for my house and paid all the required fees, 2 years have passed and the meters have not been delivered. This is the Ghana we all live in and nothing seems to be done about it, we will keep blaming people for not having building permits but I can assure you that, if the process is not streamlined and made efficient, people will continue to build without permit.
We can blame people all that we want for illegal power connections but if you apply for a meter and you cannot get it after 2 years, what do you expect the people to do? Illegal connection of course.
There are serious institutional failures in Ghana and the serious we get as a nation to correct them, the better it would be for all of us. Government has a role and the public also has some responsibility here too.
Let all Ghanaians sit back, reflect over what has happened, why it happened, who should have done what and devoid of emotions, analyze our societal failures and come up with pragmatic ways to make our society work as all civilized societies do.
It was absolutely uncalled for, for anybody to have issued a vague warning to find culprits and bring them to justice in the heat of the disaster. After all, this was not a terrorist attack where authorities issue warning to find perpetrators and bring them to justice.
The Melcom disaster was the culmination of years of decay and institutional failure. We chase away the hawk before we warn the chicken; these are the real facts on the ground and we must face it directly.