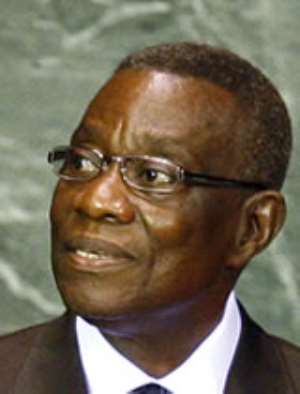 After the shocking death of ex-President Mills, several people wanted to play politics with it. And I must say out-rightly that, it was basically the National Democratic Congress (NDC) adherents who were very loud in the politicization.
The New Patriotic Party (NPP) showed tremendous discipline on this occasion and I dole my hat out to all in the NPP for the unprecedented discipline exhibited at the time of the death of the late President.
As for the NDC they must bury their heads in shame for wickedly politicizing the death of a President whose health they hid from the public till he died.
There were excellent tributes to the late Prof, extolling how humble and God fearing he was and of how modest and religious he was as a President. There is no doubt at all that those who knew the President very well were endlessly praising him in terms of these personal attributes.
It was good that all these things were said about the late president and above all we were all united in mourning and burying him to the envy and admiration of the world.
What we all now need to come to terms with is that President Mills was a politician not a Pope! He campaigned on certain issues when he wanted to be elected as president. He made certain promises and if as President there were some failings as players in the political game, we needed to trumpet such failures.
The late President it must be put on record was NEVER insulted. It was his unacceptable silence in the wake of certain occurrences in the country that were "insulted".
If the president promised to introduce one term premium for the NHIS but failed we shouldn't talk about it? If he promised to fight corruption and huge sums of money were paid to his close pals including a known NDC financier, Alfred Agbesi Woyome, we should be mute? We had a President whose directives to his appointees were always violated! He asked them to declare their assets and some of them failed! He asked them not to pay Woyomi and he was paid. Under his watch unelected aides were firing Civil Servants without his consent. In all these instances somebody somewhere thinks Ghana our Motherland should be made to tread that path?
If he promised to construct International Airports in all Regional capitals in the country but failed, we should clap for him? Let's be serious as Ghanaians! Nobody should expect that, because president Mills is no more, talking about certain things should now be a taboo!
If there are people who should be blamed for the death of President Mills, it should be his very handlers who told us he was not sick and made him to jog and trot in some cases at the Kotoka International Airport. They were hugely unfair to the President and it is now time for Ghanaians to teach them a colossal lesson by voting them out of power come December 7, 2012.
I am not going to delve into whether the President was sick or not. I am also not going to talk about how, where and when he died now. What I have to say is that, if the President was humble, God-fearing, modest and not corrupt, then his handlers who failed to emulate him must now go! Now that, the "Asomdwe" man is gone!
If the Pope dies today at Rome, nobody will criticize him for watching over corruption or making promises but never got to fulfill those promises. We are going to hold the NDC responsible for deceiving Ghanaians for votes but failed them without regret. Let us not allow them to use the death of the President as an escape.
The NDC must be held to account for how they ruled the country for the nearly four years they had the opportunity to govern. Their manifesto and campaign speeches will be gathered and questions asked as to whether all or at least, majority of the promises they made to Ghanaians have been fulfilled!
I honestly wish President Mills was still alive to show us the humble and God fearing nature he posses. I also wish his handlers were fair in telling Ghanaians his true state of health. Perhaps, if this was to be known the good old Prof would have still been alive according to former President Rawlings.
Fare thee well and Rest in Peace, Prof Mills.
Akilu Sayibu, Tamale-North
Contact Email: [email protected]