Accra (AFP) - Ghana's outgoing president John Mahama urged his compatriots to get behind his successor, Nana Akufo-Addo, during his last state of the nation address on Thursday.
Mahama told parliament in the capital, Accra, that he was happy to step down and let his long-time rival take the helm of one of Africa's most stable democracies.
Akufo-Addo will be inaugurated as president on Saturday.
"I stand here today, Mr Speaker, holding the baton of leadership prepared to pass it on with pride, goodwill and determination to Nana Akufo-Addo and to ask all Ghanaians to cheer him on as he runs his portion of this important relay for Ghana," said Mahama.
Opposition leader Akufo-Addo defeated Mahama in the hotly contested December 7 elections on a platform promising to rejuvenate the economy and stamp out government corruption.
Ghana is a shining example of democracy in a region where dictators have been desperately trying to cling to power.
Gambian President Yahya Jammeh has refused to acknowledge his defeat in a December 1 election he lost to Adama Barrow, challenging the result at the Supreme Court.
In Democratic Republic of Congo, where President Joseph Kabila is constitutionally barred from seeking a third term of office, new elections have been delayed by a year.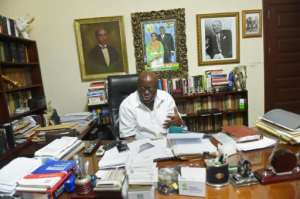 Ghana's President-elect Nana Akufo-Addo, has pledged to put Ghana "back on the path of progress and prosperity"
In 2015, Mahama was forced to go to the International Monetary Fund for a $918-million (873 million euros) bailout to try to turn around an economic slump caused in part by ballooning government debt and a crippling power shortage.
But in his speech, 58-year-old Mahama defended his time in office, saying that despite "sailing against strong headwinds", he was able to deliver many infrastructure projects as well as healthcare and water services to millions of people.
"Ghana is entering into an era of power sufficiency," he said. "I took responsibility."
Akufo-Addo, an erudite 72-year-old human rights lawyer, has pledged to put Ghana "back on the path of progress and prosperity".
In his election manifesto, he laid out a plan to restore economic stability and encourage investment by slashing corporate tax and abolishing taxes on everything from real estate sales to domestic flight tickets.