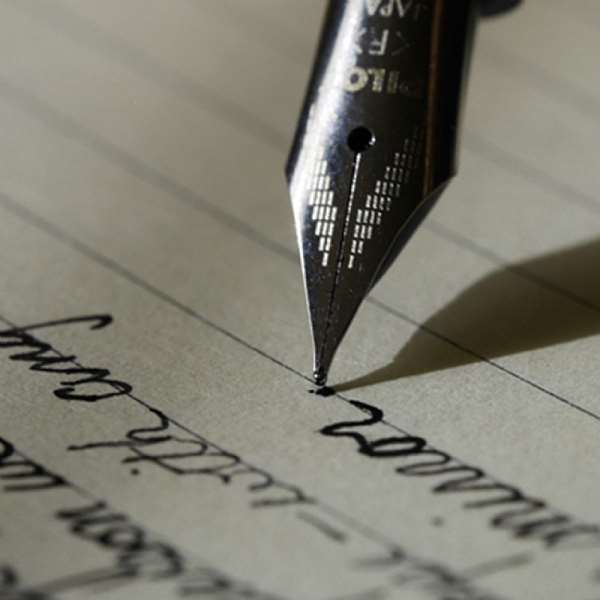 By Muhammad Ajah (From his poem collection: Man in the Mirror)
These weevils!
In the withering world of mankind
Gnawing the half-leafy branches of the falling tree
Condemned, they forge to contaminate
The seeds planted in their gardens
Inconsiderate of the buyers' lives
For Mrs. Warren excelled in her profession
Condemned here and there I was told
That two-horned defiantly has pledged
To have from both "thaqalain"
Comforting companions in his blazing den

Both were made and the tree was sealed
The two-horned met it tough with him
The weaker inside was easily gored
The weaker inside with stronger components
Of tune and flesh charming ears and eyes
Lured with songs the stronger inside
To that fruit of destruction
Alike in blood the demise continues
Though said behind the best of stronger hearts
The stronger outward must be there to spur

Today the art of gardening is forward
From bad to worse, worst to worstest
Strong or weak this area is confused
For when a finger soils the rest must join
Provoking sights of pin-ups in public studios
Guarded by living ghosts of hollow hearts
And gardeners generous to give and take
Stately ply – a legal trade fare
Little and old, unsteady travelers
Having thirty seven uncles across the nation
After all, Warren excelled in her profession
And freedom abounds even from controllers

What faults for the flawless foundlings?
Thrown into bins, gutters or rivers
Or easily strangled or buried alive?
O Great God, what blunder have man
To say to them, "Go, you are our choice!"
What are these gardens of fire?
What reapers of fire dwell this place?
To procreate positive martyrs modeled
To relieve our weak soul and body?

Eyes are weakened by dirt
Ears are deafened by wicked whispers
Heart bleeds at the heartless art
Destroying the gardens divinely made
To bear fruits that may relieve
Sick soul and bending body
And the artists whether the gardeners live
Pretentiously shed crocodile's tears
At a mishap without leaving their rewards
Praying for the arrival of another

Treading with throbbing heart along Obalende Bridge
Wrapped in fear of what ears had heard perchance
It was dusk; I have been of good sight
Here got fainted the internal fuel of my eyes
By the foundering sights of gardeners, too many
Half bare or with tight-thin cloth, nay
To expose the organs of wickedness
I'd met a decent gardener, said a pal
Who asked me 'ain't you affected by Death?
Just a laugh, in few minutes, the game was over
Coming out worried, he realized he'd to trek
For the taxi and Okada were for hire

In the far north as I crossed a building
A man stopped and gazed around, I paused
The gate opened; there was a rush, nearly a quarrel
"My boobs are still robust and fresh", one said
"I am still tight because I am new", another said
"My hips are round and soft", the third said
But what is your name? Okonko!
"I am sorry, you are not a believer
I sell to them who claim to fear God
There over are the pagan gardeners
And they sell cheaper"

At Uniport, ashamed at the scene, I managed to speak
Doubting myself, "Is she a student?", I repeated
An interview
Good evening, sweet girl
'Oh' are you interested?
What? Oh! I wished to ask
Do you live here?
Not quite so, but I am a student here
A student! O! What are you reading?
"I read Bio-Chem., the wonder of wonders
I study more not from lecturers
The work of "Biology and Chemistry in Man"

At Warri reiterated a gardener
How many have I tasted and tested
Cum toasted, twisted and many wasted
Uncountable, the thin, the thick, the hefty
Is it the white, the black, the yellow, long or short?
Or even those that could cease one's breathe awhile
After they are plugged or logged in
I am the shock absorber, the beloved
But I do not waste my own lovers
I feel lucky to have one thing
To market unlike my opposite
Pshaw! Are we not Africans?
The condom producers are money bags
Milking us through this thing I have
And here I must sell to live
Or die like many unnoticed, a daily drama!

My friend and I travelled in a night-luxury bus
At Benin, the engine needed petrol
At the station, what's happening there? My friend asked
Beside the road, two animals proudly were meeting
And some gardeners in disguise of sweet sellers
Ogling or winking, they hurtled around us

A blend of satire and mockery at a chemist
A man hurriedly over took my position
Seriously asking, "Do you have CDs?"
The assistant in his baseless trail called him aside
Coming out from the store, hiding his hand content
Emptied it into the man's. I wiggled my eyes, laughing
But the girl was there waiting behind
And in her shiny mood, no doubt in the expectation
Before leaving a teenager behind me I heard
Openly requested ten packets
The chemist observed he was there last week
And had asked for five packets

I'd stood phoning in Alex
Behind me appeared a young man of mid-twenties
Thinking he wants to call, I quickly cleared
"A wiz haga"? He asked. "Andana Kullu haga"
For mere knowing, I followed, soon we were there
But it was a male lying bare waiting inviting
I pushed my feet and disappeared hearing after ward
The girls were careful inhibitors with loose back
And self-made-widows or divorcees too many
And no one pays again for the fairly-used
But what is the fault of the fair maidens
Forced out of their home undone by their own blood
With the slogan "Go trade and brings the garden fruits
Ataba, across a road to an exchange firm
A gentleman with Jewish moustache
Followed me saying, reiterating
"Ya afandi, you want them! What colour? What age?"
For mere knowing, I was there to see, waiting
So tight the corner - above suspicion
Little hawkers, so little with yet flat chest
Where are the bearers? I drew back and vanished

The gardeners will not stop; they're ready for export
Crowding the linking bridges to Milan…
The International Markets of fruit exhibition
Where the poor gardeners begin to enjoy
After washing their feet in soda water
From the dirty returns of their displays
And proudly joining for price control
Look at this, here, having flashy cars!
Real! Overs are short means for them to be rich
But what art? – Seeing is believing
They ask, "Do you have it?" Not how
Black blood like hot cakes are rushed
Contracts timely with one end secretly unwilling
Or true links are the like hanging
For the many hazards lying ahead
And what expectations from a tame monkey
When it goes or is thrown back to the forest
Reapers of fire are limitless, just few
Under the fog or scorching sun bedeviled things!
Hungry dogs! Satan's children! Agents of misery!
Look at them on the streets begging for pure water
You must "roger" or your head is hit
Window traders from unscrupulous effeminate
Selfish in nature or revengeful attempt nationwide
throwing water into the burning fuel
Or farting out rotten eggs into the stench
View them afar wasting, rejoicing extensively
With pretentious accusation of death
And hidden whisper-farewell to burden!
Mum or dad or kin had been hungry and sick
But what comes from nothing goes ad hoc
Man, are we not foes. O no, one land!
Why sit on the sweat of our fathers past?
Why relax on the heads of the hopeful hustlers
Self-pity or fear or revengeful attempt
Boundless booties – unnecessary hoard
Awaiting the warm invitation of the sink
Such unpitiful pile of over a million shares
While millions are gradually, seen or unseen,
Yawning painfully to their final sleep

One hearty chief, hearty just now speaking
Out of office or trade house where his position frightening
Or merely making a slight squib of a sound self
How worth I look, wealthy - so sweet and sound
I've made it so fast, flesh or blood
Think of it! Six days of coin generation
The seventh, not for rest but planning
I'll enroll you, will you just dare
My reward will be later, have yours first
Giving with right unclear – a sordid boon!
And taking with dark left-an absorptive camouflage!
For the cursed never gives a whit, a tinge
Without a latent return, regretful, however long

At Alex a brief of fake transaction
2.8 billion dollars – an oil bonus!
(Oil is our wealth, oil of constant conflict
Our loam and its gifts are mean
Our vast lands and forests are waiting
Dollar is our aim, oil is our target)
Such deals – they are always sour money
Plenteous in the greatest banks.
Say yes and your share for the shift
For you alone, three top officials involved
You'll know the when you've agreed
We shall host you here for facial talk
Now all arrangements on us – what follows? 419!!!

A proud tycoon, a gentle talkative
I am a tough businessman, a tough grocer
The best tea that can be sipped with joy
The best apple that can be sucked with joy
The best water melon that can be touched and turned
The best flowers with the best fragrance
And the best tunnels that can be penetrated
And I have, Oh what an excellent trade!
I have depots all over Niger and Benue
Deep-rooted depots and my shiftable goods
Deep and damned depots and sickening goods!

But no man can disturb this way
After all my counter parts are abroad
And I do export my fair goods abroad
Where my branch offices lie there and there
I say no man can disturb this way
Even the black donned – the lawbreakers
A hot sip, soft touch will render him disarmed
No threat, their heads know me – they're customers
And my indispensable goods are so enticing
Millions are ready to serve with their hearts
Sealed papers, I direly boast I have them
All from my boys who I supply, at weekends
Or when they hit jackpot, with the best goods
I don't care where and how they make it
But I'm well reposed that my share, the larger
From the fruits of people's sweat is always there
For I sell the best of the enticing goods
Pshaw, proud hero reaping from reapers of fire!
A great man of splendid mean trade, ass!

In the West, Blacks peered from a crevice
As if solely for hard undertakings,
And uncontrolled animalistic copulation
Having wealth and fearing death by instalment
(The feared truism that comes when it should)
They seek heartless deals with Satan's agents
Who easily defeat the grain of Mercy in their soul
To abduct or lay away young unstained lambs
Parents so happy their child is abroad
Soon he is dead on papers. Sold and till maturity
The brain is turned. He is already a he-goat
Fed with milk for frequent release. Wasted lives!

Money is a foe. Poverty is a foe
Human hearts stolen, transplanted for money
And parts of shameless exhibitors cheaply used
What results? – Vultures with human limbs
Juju is a disease in this continent
Western Magicians go to circuit and display
While ours use true human blood and flesh
In their dens, yet ever wretched things
Or those who disguise themselves at the naked eyes
Of man with the coat of Holiness

Landlords – all with just few
Fire reapers that drain the sweat of man
Before erection, live sheep and cows, buried
Underground, all sorts of dirty rituals performed
At completion, wombs are possessed from the underworld
And innocent tenant gets and pays without knowledge
Into the unseen banks of the owner
Stained coins go that way! Birds alike!

What art these talkative doing
Beggars or pilferers or preachers or liars!
Travelling buses are targets or their temples
Or the mosques, cross-legged with imaginary Holiness
Where many, illiterate of what they utter
Misquote, misinterpret, defame Holy Books
Yet without direction, what message!
Until the end of their long conjured oratory
They reveal their true identity as wicked gardeners
And defeated by their words, the masses dance

The barren can play the fool in life
From shrine to shrine, church to ministries
Setting behind that "God's time is the best"
There're always problems for not having one
A hard search - sweat and wealth
Until they are baited to the not-marrying fathers
When in the darkness, the Holy Spirit just descend
And make them second many.
Or end conceiving what can never be born
Or born after years with great difficulty
The child is not real-sudden return to its origin
Or the home is set ablaze
Wait man! It will come when it will come
And if so, not you or man can affect
The juju man is a known wicked gardener
Who cures with goats and eggs
And incite fear that they must frequent his den
While the beguiling white-donned – fire reapers!
Make us skeptical of Divinity
Which coin is unstained? Where is it found?!
My friend had said from active soul
The world is really too much with us

From all directions come a smooth voice
"Save them all that cross Your Words
Pardon them for they know not what they do
But guide, enforce, restrain their dirty moves
And shake the minds of the deaf and blind
Make them know to be faithful to God and man
To maintain the blessed with due right
To give Peter his and call yellow yellow
To allow man live and peace to rein
To leave those divine trees of motherhood
More voices with one end sprout lauding
Man teach man! Teach! Teach! Teach! Teach!
I had done, now I'll never do, O Lord!
This sounds as spree, sour and silly
Yet one-eyed in the blind's kingdom

Muhammad Ajah is a poet, writer, author, advocate of humanity and good governance based in Abuja. E-mail [email protected]