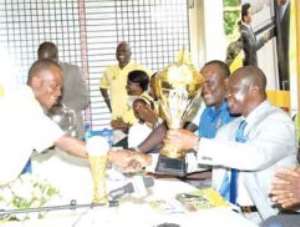 The spectacular course of the Royal Golf Club in Kumasi would on Saturday host the third Clash of the Tigers, a golf tournament involving the Royal Golf Club, who are also known as Kumasi Tigers, and the Achimota Golf Club known as the Accra Tigers.
The 'Tigers' are a group of like-minded golfers of the Royal Golf Club and Achimota Golf Club whose aim is to improve the inter-personal relationships between members while improving their game to make it more enjoyable.
This weekend's clash promises to be the best so far in the series after sponsorship was secured from ASHFOAM.
At stake again will be the giant trophy donated by the Captain of Royal Tigers of Kumasi Mrs Ragheda Khalil.
The Royal Tigers won the inaugural tournament in Kumasi last year but could not defend the trophy in the return leg in Accra.
In addition to the trophy for overall winners, there would be trophies for the best individual winner and the best two winners from both sides.
Mrs Khalil will lead the Royal Tigers group which includes seasoned golfers like Nana Kwasi Bawuah, Prince Agyemang, Prof. J. Plange-Rhule, Mrs Mercy Ampofo, among others.
The Achimota Golf Club Tigers will be led by their captain, Asiedu Offei, and includes such other golfers as Dr P. Ennin, Jake Aryee, Ernie Boles, Peter Kwakwah, and former Majority Leader in Parliament, Felix Owusu-Agyapong.
The competition will be rounded off with a dinner at the Golden Tulip Kumasi City Hotel.