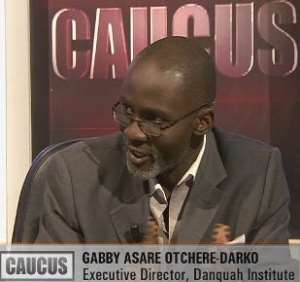 IN THE most detailed response yet to the controversial recording about an alleged conversation between him and Kofi Adams, spokesperson for the Rawlingses, Gabby Otchere-Darko has rubbished it describing it as a merging of varying conversations held under different circumstances.
'I am as confused as the things happening in the party (NDC),' he said adding he did not know how they got his voice and pieces of other recordings which they put together.
He said he has not reacted to the case except to issue a brief statement when it first broke as he is still studying the matter.  
He added that if the recording is analysed it would be discovered that it lacks integrity.  
Speaking to Fiifi Boafo of Oman Fm last week on the issue he said 'analyse the recording well. Knowing me well and where I stand and someone will tell me that he will work to get rid of the government and I know that the government is not being driven in the right direction and I don't say anything to encourage him?  All I do is move to another subject which is not relevant to what I have been told?'
Considering such manouvres as trivialities he asked the ruling government to find solutions to the challenges of unemployment, poor living standards and others adding the people of this country are watching.
On the travails of Kofi Adams in the NDC he pointed out that the target is the founder of the party, Jerry John Rawlings whose position he added is what his spokesperson has always articulated and amplified.
'It is not about Kofi Adams, it is about Rawlings. Ignore the talk about a recording regarding an alleged conversation between Kofi Adams and me. I have spoken to Kofi Adams on several occasions. If they have these recordings let them play them all. Let them tell us the source of the recordings,' he said.
He corroborated Kofi Adams explanation that he has been dealing with him about stories for publication in the Statesman.
In his conversations with Kofi Adams he said the gentleman has always maintained that they would make Mills a one-term president, statements he made as campaign manager of Mrs. Rawlings, he explained.
'Let them play all the recordings. You do not go and pick pieces of recordings and put them together for a particular political end,' he said.
Kofi Adams as spokesperson and Deputy General Secretary of the NDC he said 'has never been disloyal to the NDC. The issue is about the party founder Rawlings and his wife's fear that President Mills is taking them to opposition.'
Rawlings says this and Kofi Adams he went on 'articulates and amplifies this and then you suspend him. You do not suspend Kofi Adams but Rawlings. It is Rawlings you are attacking and not Kofi Adams. Kofi Adams has never spoken against the NDC. He never spoke against the government unless his boss did so and he had to defend these. So why don't they suspend Rawlings?' he asked.
Perhaps it is part of a grand scheme to cut Rawlings to size in the party he said pointing out that 'if it is the founder's principles upon which the party was founded which he thinks are being breached the reason for which you and he are irreconcilable, on what basis you are suspending him (Kofi Adams)?'
Continuing he said, 'They say Kofi Adams is a traitor. Who has he betrayed? Was it a betrayal when he fought behind Mrs. Rawlings against the President when the party allowed the primary to take place?
By A.R. Gomda