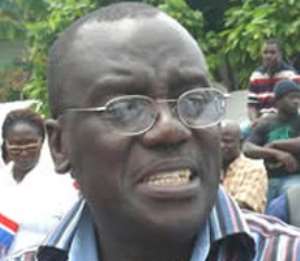 NPP General Secretary, Kwodwo Owusu Afriyie also known as Sir John
The New Patriotic Party says President John Mills must, with immediate effect, sack the deputy Interior Minister Kobby Acheampong.
Its General Secretary, Kwodwo Owusu Afriyie also known as Sir John insists the deputy minister has become too "notorious" for insults and must be shown the exit from government.
Kobby Acheampong has lately, been in the headlines for all the wrong reasons for his alleged insult on the New Patriotic Party flagbearer Nana Akufo-Addo.
His recent altercation with the police in which he is said to be at the receiving end of another insult has not helped matters.
Kobby Acheampong claimed he was called a "stupid man" by a police man who, together with his team were conducting an operation at an unapproved location on the Accra-Cape Coast road to punish road traffic offenders.
The police man has since been interdicted with the seven other granted bail on charges of police misconduct.
Opinions have been divided on the matter with some accusing the deputy minister of abusing his office and intimidating the police personnel.
The NPP's General Secretary however believes the deputy minister erred by driving at 90 km at a stretch of road where he was expected to drive at 50 km per hour.
He said the deputy minister, having gained a reputation for hurling insults at all times decided to insult the police men on duty.
Sir John said Kobby Acheampong has become "notorious" "arrogant" and "feels larger than life" and must be cut to size.
He said it is now time for President John Mills to "set a good example" by using Kobby Acheampong as a scape goat to bring meaning to his abhorrence of the politics of insult.
When he was asked if the NPP has punished some of its members who engaged in insulting behaviour, Sir John explained there was no need to, because Nana Akomea, who is noted to have insulted James Agyenim Boateng is not notorious for insults and only reacted after being provoked.
Deputy Information Minister Okudzeto Ablakwa told Joy News the prerogative to dismiss a minister rests only with the president and cannot in anyway be forced into taking such an action.
He said initial investigation points to the fact that Kobby Acheampong was the victim of an insult and was not the one who hurled the insult on the recent controversy with the police.
He said it will be "capricious" and "high handed" in calling the president to sack the deputy minister based on this particular controversy
Story by Ghana/Myjoyonline.com/Nathan Gadugah