Ursula Owusu: Kobby Acheampong is disrespectful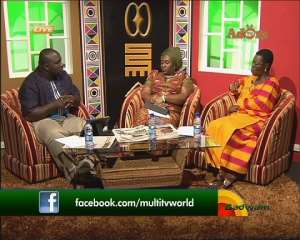 The New Patriotic Party's [NPP] Parliamentary candidate for Ablekuma South, Ursula Owusu has described Deputy Interior Minister Kobby Acheampong as an unruly and disrespectful man.
Speaking on Adom TV's BADWAM program on Multi TV, Ms. Owusu indicated that she was not surprised at Mr. Acheampong's recent confrontation with some Policemen in the Central region.
According to her, "I'm not holding brief for the Policemen, but we should ask ourselves what Kobby did to warrant an insult from a Police man. I will be surprised for Kobby to stand there meekly to have another human being insult him. When you haven't even offended him, he insults you, so you should know the type of person we are dealing with".
According to her even before the NDC came into power the Deputy Minister's integrity as a member of the NDC was already tainted.
"When he blatantly lied that ex president Kuffuor had an underground entertainment centre with swimming pools in his house, a statement that was proven to be false by all media houses who went on a tour of Kuffuor's house, what did he do? Under such a circumstance, everyone would have thought that Kobby would come out and apologise for misinforming Ghanaians but he never did, he still maintained his stance" she said adding that "ever since he became a Deputy Minister of State his unruly behaviour has worsened. He talks anyhow and insults people at will".
Ursula Owusu also noted that Mr. Acheampong's recent confrontations with some female journalists and other public figures are clear indications that he does not respect women and he is not a gentleman.
She also alleged that President Mills was encouraging unruly behaviour in his government thus was encouraging Kobby Acheampong to insult people.
Mr. Acheampong's behaviour she noted has "shown that the more you insult, that is when you are promoted. If you remember, when Kobby made that infamous 'kooko asi kurasini' statement he was moved from Tourism to Interior. That is a clear promotion. It's been on and on and on, and no one seems to fault it. I won't be surprised after this incident if President Mills promotes Kobby to a full Minister'.
But the Acting Coordinator of the National Youth Authority, Sadinam Tamakloe who was also on the show disagreed with the MP aspirant saying Mr. Acheampong will never insult a Policeman on duty.
According to her, "more often than not the Police mount these posts at illegal places to extort money from unsuspecting victims and so I think the Policemen were caught unawares. I'm certain they didn't even know that the person they were dealing with was a government official because Kobby was driving his own car that day".
She described as unfounded a story in the Ghanaian Observer newspaper which indicated that Ghanaians were calling for the dismissal of Kobby Acheampong from the NDC adding that Mr. Acheampong is a treasured jewel to the NDC and cannot be sacked.
"Who are those saying we should sack Kobby? Naturally, people will criticise you no matter what you do how many of the over 24million Ghanaians we have currently spoke to the Ghanaian Observer and said they wanted Kobby sacked? Ghanaian Times should come out and tell us. What was the percentage? We all know the source of the Ghanaian Observer newspaper, we do" she noted.


Story by Etornam Tsormey/Multi TV