Mechanical Lloyd donates ambulance to MOH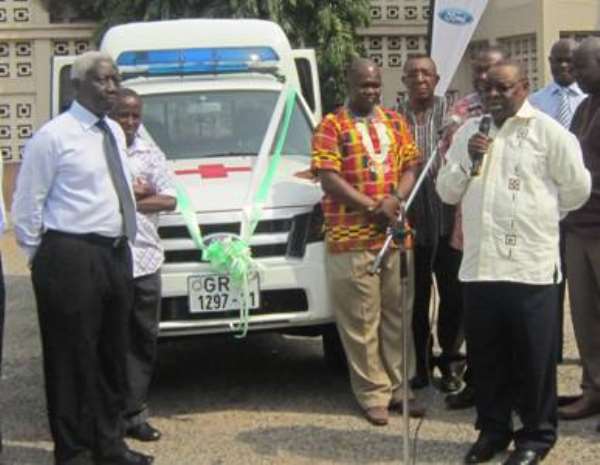 January 28, 2011 Accra, Jan. 28, GNA - Mechanical Lloyd Company Limited (MLCL), a motor company and garage operator in Ghana, on Friday donated an emergency evacuation ambulance valued at $36,000 to the Ministry of Health (MOH).
The Ford Ranger ambulance with unique features, which can withstand all weathers, is to assist the government to tackle the challenges in responding promptly and effectively to emergency situations.
It has an intercom system to facilitate communication between the driver and the medical attendant in the rear with the storage cabinets and lockers on the left hand side, a bench seat on the top of the storage cabinet, standard medical equipment, medical aid and adjunctive supplies kit.
Presenting the key of the vehicle to the Ministry, the Group Sales Manager of MLCL, Mr Kojo Annobil, said the company realised the need for such vehicles in Ghana due to the many road accidents and disasters in the country recently.
He said assisting government to save lives and contributing to the growth of the country was part of the company's social responsibility.
Receiving the key to the vehicle on behalf of the National Ambulance Service (NAS), Mr Joseph Yieleh Chireh, Minister of Health, thanked the company for its kind gesture and gave the assurance that it would be used well.
He noted that the vehicle had come at the time when the country was experiencing challenges related to high mortality rates as a result of road accidents, delay in access to maternal health care and other emergencies.
Mr Yieleh Chireh said the NAS was present in only 24 stations across the country and therefore appealed to the public as well as philanthropists to help address the challenges facing the service.
He said a school was being established to train more personnel to tackle emergency cases instead of calling on ordinary persons to assist accident victims.
Mr Yaw Assah-Sam, Director of Sales and Service of MLCL, said the company dealt in pick-ups, saloon cars, buses as well as trucks.
GNA