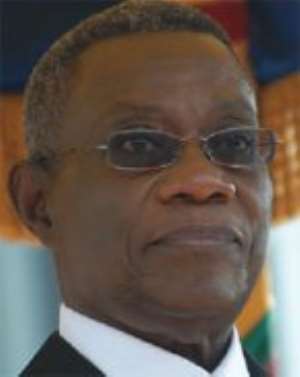 Unfolding events in neighbouring Ivory Coast are clear manifestations of forebodings of what could happen in Ghana after Mills and his NDC have lost in the Parliamentary and Presidential elections in 2012. Mr Emile Short earlier registered his thoughts and on these likely premonitions in Ghana during and after 2012 with worried reference to events that happened in Rwanda; indeed John Mills and his government's reactions on the Ivorian situation are clear confirmation of what everybody feels about Ghana during and after 2012.
Ever since John Mills and his NDC took over the reins of government from J A Kufuor and his NPP team, several hostile polling related incidents have served as enough pointers to the fact that the Mills-led NDC are bracing themselves to inject electoral conflict into Ghana's long enjoyed peace and quiet along political, ethnic/tribal lines. Nobody is interested in playing prophet of doom yet the unruly and manipulative handling of the current District Council elections coupled with previous similar events confirm the tale that will be unfolding during and after the period. Like rain cloud that has formed so dense and tense for a heavy downpour, Ghanaians need no extraordinary fatidical spirit to foretell things to come during and after the 2012 elections that will occasion Mills and NDC loss in 2012; this is in view of the on-going obnubilation in our political climate associated with Mills/NDC rule. Before I proceed any further, may I politely ask fellow Ghanaians if this is the nature of 'Better Ghana' that adventure-seeking Ghanaians who voted for Mills and his NDC were promised by John Atta Mills to look forward to? Is this the peace (asomdwe) that John Mills could offer by holding himself out as the most pontificated ironical 'asomdwehene' by fanatical NDC supporters who appear to have no clue about the difference between good and bad, right and wrong, between black and white, between truth and falsehood and between strife-torn and peace? Where is Ghana under Mills heading to?
To further this discussion, let us not be oblivious of John Mills' political credo and inclinations from his youth to present. Upon getting on board the political wagon as a student at the defunct Nkrumah Ideological Institute, Mills has been indoctrinated into the political philosophy of Gleichschaltung which silences and, or eliminates political opponents aimed at gradual creeping in of dictatorship. To John Mills, Western civilised democracy is as alien to him as it stinks in his nostrils. His iconised Nkrumah of his old school of politics of pre-independence to the first Republic never tolerated any political opponent, for his opponents, including some of his own cabinet had to flee Ghana or be housed comfortably at Nsawam Prison at his pleasure just for disagreeing with him. His first stop at a supposedly truly Nkrumahnised political culture home was with the P/NDC under John Rawlings in whom he saw a good promise of an emerging dictatorship with whom he fell into bonded companionship.
If what Kwadwo Boakye Djan has said is anything to go by, after the PNP led by Dr Limman had won the 1979 Presidential elections, the so-called chairman of the murderous AFRC who formed an interim government to oversee to the elections, John Rawlings intended not to hand over to Limman because he had been advised by Cuba's dictator Fidel Castro that a revolution doesn't last for three months. Rawlings and the AFRC handed over to Dr Limman because he Boakye Djan, as a CPPist and pro-Limman/PNP, forced this cynical wrong-headed communist-inclined nation wrecking John Rawlings to hand over not-withstanding his bitter nolition. Recalling from Boakye Djan's testimony, the handing-over ceremony delayed because John Rawlings did not want to. From that handing-over day in September 1979, John Rawlings and his Ewe mafia began to hatch plans to overturn the PNP government to enable him come back to continue his Nazi style homophobic mass slaughtering expedition ever in the political history of Ghana by a supposed Head of State. Such is the closest political associate and companion to whom John Mills comes to heel.
In 2000, it took both the Queen of England and the President of the United States of America to come to Ghana to persuade NDC's so-called founder John Rawlings for a peaceful, transparent elections and a subsequent handing-over after Ghanaians' rogation to them deluged and moved them from their imperial and super-power seats respectively. Further to these powerful interventions from the UK and the US, Ghanaian musicians composed songs animadverting Ghanaians and Rawlings about what had happened in Liberia, Sierra Leone and Rwanda as events to ward off. Against Rawlings' wishes and aspirations, John Mills lost in his bid to succeed him, the latter being brought up to succeed former to be used as a puppet roi fainéant President to further the interests of Rawlings on his exit.
John Mills as current President of Ghana and against diplomatic protocol sent a personal message of support to Laurent Gbabo during the latter's Presidential campaign of which Gbabo boasted a lot on his platforms. After losing the elections, vanquished Gbabo sent a delegation to consult Mills about what line of action he could take to remain in power. Mills is alleged to have consulted his security capos after which he gave an Ahithophel-type advice to Gbabo's emissaries to tell Gbabo to immediately appoint his Ministers as an indication of his being in control which Gbabo did in spite of international pressure bearing on him to step down and hand over to the Ivorian Electoral Commission's declared winner. Mills' indult to Gbabo contravenes ECOWAS heads of government resolution on the Ivorian issue. Mills' anti-democracy position expressed by him in his words and deeds on the Ivorian conflict is not only in international domain, he has brought onto himself untold atimy at the United Nations, within the African Union, at the ECOWAS and the entire world of democracy. In a spirit of instilling peace and calm in post-election Ivory Coast, whereas the Nigerian President has frankly exhorted defeated Gbabo to hand-over to his opponent winner and come and live in a palace to be allocated to him to avoid any rancour, Mills is condoning and conniving with a divided Côte d'Ivoire in blood bath.
Tartuffe holier-than-thou Mills whose exaggerated meekness and pusillanimity have earned him the sobriquet "Asomdwehene" is hiding behind this sham ironic veil to do mischief not only in Ghana, but across Ghana's territories to neighbouring Ivory Coast. If malice-thinking John Mills is truly and conscientiously the much proclaimed 'asomdwehene', then Ghanaians and the world are watching, expecting a reflection of your supposed sanctity, irenic and honotic attributes in your deeds. Peace-loving Ghanaians are therefore exhorting John Mills as President of Ghana to declare his stance and make a candid choice between keeping reticent by reason of his so-called friendship with Gbabo that seeks to confirm his indult to Gbabo for a sustained conflict and bloodbath in la Côte d'Ivoire and advising Gbabo, friendship or no friendship, to do the one and only honourable thing by handing over to bring peace and tranquillity to the people of Cote d'Ivoire. After 2012, after you have lost to any of your opponents, we want you to behave magnanimously and hand-over to who so ever wins to be Ghana's next President just as John Agyekum Kufuor gracefully did to you after the 2008 elections.
Adreba Kwaku Abrefa Damoa, London UK