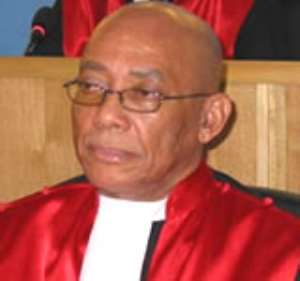 Commissioner of CHRAJ, Emile Short under fire

Listen to excerpts Nana Ato Dadzie's interview© Copyright myjyonline
Lawyer for Ato Quarshie – one of the former government officials implicated in the Mabey & Johnson bribery scandal – is demanding the removal of the CHRAJ Commissioner from the public inquiry currently underway on the scandal.
Nana Ato Dadzie is accusing the Commissioner of the Commission on Human Rights and Administrative Justice, Mr Emile Short of misconduct.
He is expected to file an official petition at the Commission on the matter Thursday.
Commissioner Short has been speaking to journalists about the kind of evidence he has about the issues and some of the people involved.
Based on Mr short's public statements, Nana Ato Dadzie's petition is expected to argue that the Commissioner is prejudiced and therefore cannot be trusted to preside over the public inquiry impartially.
The Commissioner is alleged to have made definite pronouncements on aspects of the case he has himself referred to the Supreme Court for interpretation and issues he had deferred his ruling on till March 29, 2010.
That, Nana Dadzie contends, compromises the CHRAJ boss' impartiality which is very critical in the determination of the facts of the case.
"The sense of impartiality of a judge or an investigative officer is very imperative – here we heard Commissioner Short touch on the very issues which we raised, the matter pertaining to Baba Camara and the reference he had made to the Supreme Court, he indicated he didn't think the Supreme Court will listen to our plea and that Supreme Court was likely to dismiss the case and that he would have dismissed it but for the fact that he thought the matter should be referred," the lawyer asserted.
He told Joy News that, "this is the first time I'm seeing a judge stepping into the open to discuss matters pertaining to issues which are before him for determination."
Nana Dadzie said he is determined not to only ensure that Commissioner Short is prevented from presiding over the public inquiry but also barred from having anything to do with the case.
The first day of sitting at the public saw a lot of objections and challenges to the jurisdiction of CHRAJ to investigate the matter in which some former government officials were accused of receiving bribes from the UK company, Mabey & Johnson to facilitate the award contracts to the company.
Lawyers of Ghana's Ambassador to Nigeria, Alhaji Baba Camara argued that their client was not a public official at the time the alleged bribes took place and therefore was not amenable to any investigation by CHRAJ.
Story by Malik Abass Daabu/Myjoyonline