Vodafone review committee hints of Kufuor's probe in GT sale deal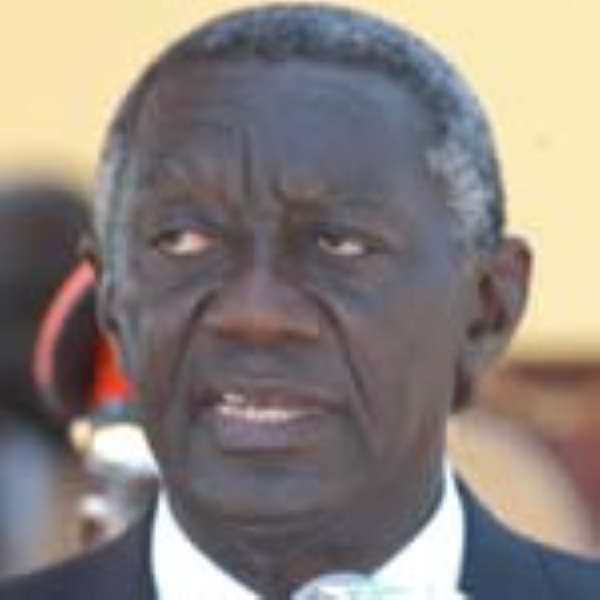 President John Agyekum Kufuor likely to answer questions on his involvement in the Vodafon deal

Former President John Agyekum Kufuor could soon be hauled to appear before committee of inquiry on a deal brokered between the government of Ghana and UK based Vodafone.
This has been one of the recommendations made by the committee set up by President Mills to investigate the sale of 70% of Ghana Telecom to Vodafone.
A source at the committee told Joy News former President Kufuor's personal involvement in negotiations leading to the sale was questionable.
The source said even though the committee had sought to invite the former President, it decided a more powerful committee be constituted to do a more thorough job.
A report presented to the Mills administration by the committee suggests legal provisions were breached in agreeing to the deal because of the former president's involvement.
It said Vodafone also failed to convince the committee how monies it invested in the acquired entity have been disbursed.
The report, which was submitted to the president more than a month ago, was the result of ninety days of inquisitions by the committee and accounts from several witnesses.
The report, according to the source, heard from officials of Vodafone who took part in the negotiations and who supplied a list of all dates on which meetings to broker the deal were held.
It became evident also that President Kufour was present at all the meetings and in some cases met alone with the Vodafone team.
The committee also found out that there was absolutely no minutes taken at all the meetings, a development members found as strange.
Amongst its key findings were that due process was seriously sidestepped and the Divestiture Implementation Committee's involvement was gravely limited until the transfer of the shares to Vodafone.
Several laws, according to the source, were broken in the process and the committee is said to have suggested a criminal investigation.
On the part of Vodafone, the committee is also said to have found out an alleged manipulation of figures since the takeover.
For instance, the committee is not convinced about how some $200 million capital injection into Vodafone's operations between August 2008 and 31st May this year was disbursed.
Beyond the entire inquiry, the committee is also not happy with the way government is handling the results of the committee's work because for a whole month after it concluded its work, the government had not taken any action on the report.
Amongst those said to have appeared to give evidence were the former Presidential Advisor, Madam Chinery-Hesse, former Chief of Staff, Kwadwo Mpiani and the Minister of Communications at the time Benjamin Aggrey-Ntim.
Several officials of Vodafone, including Tim Harrabin, Regional Director with Responsibility for Ghana, also appeared before the committee as well as others who voluntarily appeared to give evidence.