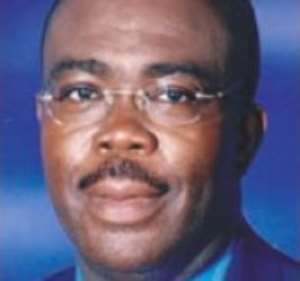 Mr Stephen Asamoah-Boateng
Former Information Minister Stephen Asamoah-Boateng, his wife, Mrs Zuleika Asamoah-Boateng, and former Deputy Information Minister Frank Agyekum are expected to appear in court today to face a nine-count charge relating to the award of a contract in the sum of GH¢86,000.
The three are expected to appear in court to respond to the charges together with three others. Mr Asamoah-Boateng was placed in the custody of the BNI on Thursday but was released on Saturday in what appears to have been a surprise move by the BNI after the state security institution had failed to produce him to an expectant court last Friday.
Counsel for the former Information Minister, Mr Peter Okudzeto, told the Daily Graphic yesterday that "the BNI decided to release him" and said his client would be in court on today.
According to Mr Okudzeto, it was the claim of the prosecution that the contract should not have been awarded by the Ministry of Information, since the contract sum was above the limit that the law permitted the ministry to award internally.
Last Friday, the Chief Justice Court, where an Accra Fast Track High Court held its sitting, was packed with anxious sympathisers, relations and friends of the former MP for Mfantseman West but were disappointed when it became apparent that the BNI officials would not bring Mr Asamoah-Boateng to court.
That situation prompted the judge to direct that he be presented before the court first thing on Monday morning.
The detention of the former Information Minister sparked some protests at the precincts of the BNI last Thursday night with the police firing tear gas to disperse the crowd.
Meanwhile, the former Information Minister is reported to have visited the family of the late Salifu Ahmed Maikanka at Kotobabi shortly after he was released from the custody of the BNI.
Salifu Maikanka was alleged by Nana Ohene Ntow, General Scretary of the NPP to have been brutalised by the police the night before his death during the public agitation by NPP faithful for the release of Mr Asamoah-Boateng.
Other personalities who had expressed solidarity with the former Information Minister included Dr Anthony Akoto Osei, Madam Cecilia Dapaah and Mr Joe Baidoe-Ansah.
Story : Daniel Nkrumah