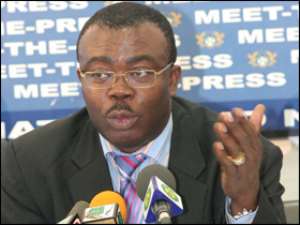 Stephen Asamoah-Boateng
THE CONTEMPT of court case filed by Stephen Asamoah Boateng, former Minister of Information and National Orientation, against four officials from the Bureau of National Investigations (BNI) will probably be held in camera at an Accra Human Right's Court.
Yesterday when the case slated for hearing was called; the state attorney handling the case, Hellen Kwawukune, disclosed that she has filed certain processes for the matter to be heard in camera.
However counsel for the former minister, Nene Amegatcher, noted that it was important for the AG to have served them with the notice, but they failed to do so.
Based on this development, the case was stood down for the parties to be served with the said processes, after which the matter was heard in chambers.
Mr. Amegatcher, briefing the press on what transpired indoors, stated that the AG's proposition that the matter be heard in camera was because some of the issues that would be raised in the course of sitting will concern national security.
The state attorney, he said, argued this under order 50 of CI 47 which states that when a case borders on national security, it could be held in camera.
The court, presided over by Justice U.P.Dery, later adjourned the matter to September 15 for hearing.
The contempt application initiated by Asamoah Boateng, Zuleika Lorwia; his wife, Nana Yaw Asamoah Boateng and Andrews Asamoah Boateng; his sons, is against the Director of BNI, Yaw Donkor, Josephine Gandawyiri, and Stephen Abrokwa for allegedly preventing the applicants from traveling outside the country without a court order.
This suit was instigated after BNI operatives, for the second time, forcefully and physically prevented the politician and his family from flying out of the country though a court of competent jurisdiction had given them permission to do so.
It is reported that Asamoah Boateng, his wife and two kids were on board British Airways flight 078, ready to take off to Heathrow in London when the Pilot, Captain Remington, announced that the plane had been grounded by the government of Ghana through the BNI and would not be allowed to fly until the ex-Information Minister with his family disembarked.
 As a result, the ex-Minister is praying the court to restrain the BNI from abusing his freedom of movement and also interfering with proceedings of the court.
The writ stated, "Since final judicial power is allocated to the courts, no person can interfere with the administration of justice that if the contemnors intend that I should not travel abroad, a condition precedent will be to apply to the court for an order or warrant restraining me from travelling abroad.
"Furthermore the contemnors do not have the power or discretion to ignore the court or interfere with my freedom of movement in and out of Ghana without recourse to the court."
By Mary Anane & Jessica Amponsah