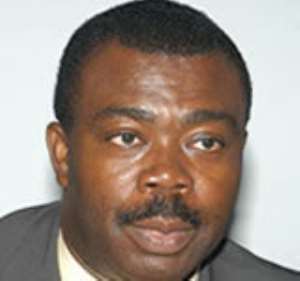 Asamoah Boateng
Lawyers for ex-deputy Information Minister Frank Agyekum, have protested what they say are surprises from the state prosecution.
A member of the team, Egbert Faibille said they were completely caught unaware when the prosecution introduced a third charge; deceit of public official, in addition to two earlier charges against the ex-deputy Minister.
"At the last date we were supposed to come and respond to the brief facts of the case as stated by the prosecution. We only come to court today and then we are given a new charge sheet with a new sheet number. When we looked at it, we realized that Frank Agyekum's counts have been increased to three," Mr. Faibille told Araba Coomson after court hearing on Thursday.
"We think that the prosecution can do whatever they want to do in relation to whatever charges they want to bring," he said, but was quick to add that the defense must given enough time to respond appropriately.
"What we wouldn't want is for anybody to spring surprises on us because we don't think it is fair and proper when the force of state are raised against you for the same state to use surprises as an element in its conduct of its case."
The prosecution led by Chief State Attorney, Anthony Gyambiby accused Frank Agyekum of seeking the release of some 86,915.85 from the Finance Minister as payment for renovation work done in the ministry in 2008, when indeed no such renovation had taken place.
The Defence subsequently appealed to the Presiding Judge, Charles Quist to adjourn sitting in order to study the new charge and provide appropriate defense, a request, granted and a new date set on September 8, 2009.
Mr Faibille, told Araba Coomson that the new charge cannot be justified and defense will prove the innocence of their client when it becomes necessary.
Whilst the ex-deputy Minister had his charges increased, the then substantive Minister, Asamoah Boateng had his charges reduced from seven to two.
He now faces charges of conspiracy to commit crime and breach of sections of the Procurement Law.
Asamoah Boateng, his wife, Zuleika Asamoah Boateng, ex-Deputy Information Minister Frank Agyakum and five others were hauled before the courts for a contract awarded to Plexifom Ventures in 2008.
The contract worth GH¢86,915.85 was in relation to renovation works done at the Ministry of Information in which the prosecution claims that the right procedures were breached.
Story by Nathan Gadugah / Myjoyonline / Ghana