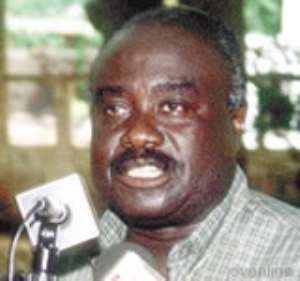 Dr. Charles Wereko-Brobbey

Chief Executive officer of the [email protected] secretariat Charles Wereko-Brobbey has questioned the basis of the [email protected] presidential commission.
Rather than investigating alleged malfeasance in appropriation of public funds in the celebration of [email protected] in 2007, he said the Commission is on a "fishing expedition."
His criticism follows response by the Chairman of the Commission, Justice Isaac Douse on the first day of Public hearing on Thursday that no allegation has been made against anybody about the improper use of money in the anniversary celebrations.
The chairman was responding to objections by Akoto Ampaw, counsel for Dr. Brobbey, on why his client was not provided with details of specific allegations made against him, so he could respond appropriately.

Justice Douse's answer, Dr. Brobbey said defeated the very purpose for which the commission was instituted.
"The first term of reference for the commission is to investigate allegations, so if there are no allegations what are we doing here?" he quizzed
He also lamented the slow pace of proceedings and called for the hearing to be postponed temporarily until such a time that the committee is ready to proceed hearing efficiently.
"I think it's not acceptable that the chairman of the commission must make notes. Long ago we went past that process.
"What ever needs to accelerate and make this process more efficient must be done," he told Joy News Sampson Lardi Ayenini.
Story by Nathan Gadugah/Myjoyonline.com/Ghana