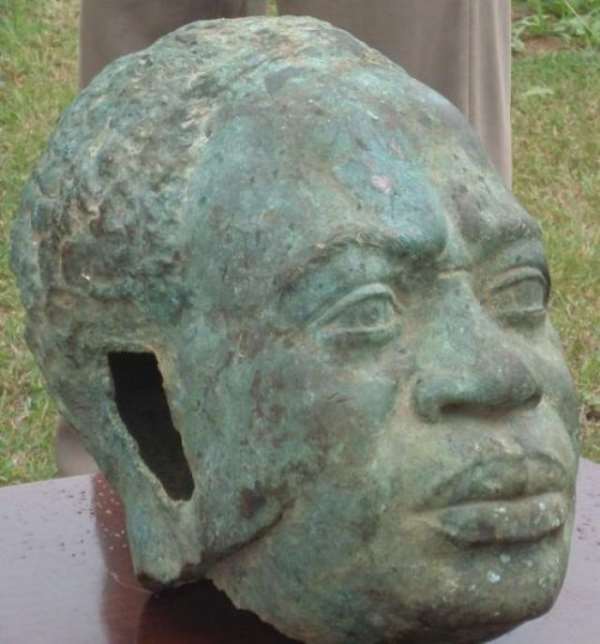 Broken Head; Broken Arm- Leave Nkrumah s Statue Alone...
Broken head; broken arm
A story Nkrumah may never tell
He leaves to Hanoi to broker peace
In it he is tied and pushed to fall
Power is gone and Ghana fell
He still had faith so pressed the bell
But very few heard him loud and clear
They touched and saw but sold him out
Nailed to shock and disbelief
He fades as though he never were
The spirit of every nation is its history. It is deliberately fossilized and preserved to inspire its people towards greatness, encourage patriotism and above all build unity. It is through history that their hopes and dreams and common aspirations are reached. The 1966 vandalization of the bronze statue of Nkrumah leading to its broken head and arm has attracted some rather worrying comments from some social and political commentators in recent times. They claim that the vandalized piece should be restored to its original state. This is the heart of our story.
Though these calls may be in good faith, for a nation that understands the significance of history and its inherent element of truth, we must realize that any alteration, no matter which name we give it, amounts to a distortion of a sort in our history. Again, it would be practically misleading as that would conceal the full story of Nkrumah and his life in Ghana at first sight.
Even Nkrumahist's, can better appreciate the point if we paused to ask whether it were not true that Nkrumah was overthrown? Whether some Ghanaians did not jubilate upon the news of his overthrow? Whether in the heat of this excitement some hot-heated individuals did not vandalize the statue of Nkrumah? And whether over fifty years down the line, not only Ghana but Africa has come to acknowledge Nkrumah as "the Man of the century"? So why should we be in such a hurry to unite the broken pieces of this statue when the truth is that it was vandalized?
The Significance of the Broken Bronze Statue of Nkrumah
Symbol Dot Com
The derived symbolism in respect to the vandalization of the statue of Nkrumah is significant. It marked the end of his reign as leader of Ghana and served effectively in driving the message home to sympathizers, supporters, fanatics and onlookers and even enemies that the end of the 'immortal' has come! It could be recalled that after Sadam Hussein's illegal capture by the American's, his gargantuan statue planted in the heart of town was brought down by the US Army. It carried a message. It was to tell the world that Sadam 'the dictator' as they chose to call him, was no more. Thus, mending the broken pieces to the body of Nkrumah's statue is akin to saying it never happen at all. But this is not true because it all happened.
It is Unique
Leaders are not gods. They are as fallible as anybody else. The broken statue of Nkrumah serves to evoke these lessons against the popular Culture that portray our leaders as 'faultless Pharisees'.
Complete statues of Nkrumah abound. Indeed, we can go as far as Conakry to find one. This is why the preservation of the broken piece is Significant. It shows that Nkrumah was also human and carried his own imperfections. And like all others, had people who disliked him. Today the story is quite different; even if they still hate him, they realize that he is amongst the greatest son's of Africa. Now, let us for a moment imagine that, that broken statue is mounted at the Accra Airport or positioned at Circle or planted in front of the Presidential Palace. What if the image of the broken statue is featured on any of our national currencies? At least one thing we can anticipate is that questions would arise, and especially in the minds of the younger generation who have seen the statues of JB Danquah, Ako Adjei, Akufo-Addo, William Ofori-Atta and Obetsebi Lamptey all intact, they would begin to find out who this man whose statue bears no head and hand is.
This questioning would bring about an awakening. For instance, Nkrumah wrote fourteen books, yet not even one of them is found in any bookshop in Ghana. That in itself is a mine untapped, because as far as we are concerned, a million copies of each of these books if printed today will be bought today. But in the mean time, this temporal vacuum shall be fed by what people have written or said about him. This in itself would eventually lead them to the undisputed conclusion that Nkrumah is indeed the greatest. What about visitors and tourists? It is likely that in their puzzle about the identity of the broken statue, they would ask questions. Natives, ordinary people or tourism officers might in this light attempt to provide some answers; it is this process of providing answers that would see the full story of Nkrumah unfold one after the other.

It is Original
If we are able to maintain the statue as it is, Ghana would become one of the few countries if not the first to have such battered monuments displayed in style and pride. It would go to show our sincerity and our resolve and tell how a man, once demonized, has seen the resurrection of all his principles, values, totems, even flotsams and jetsam and popinjays rise from disgrace to grace. Today, almost everyone wants a piece of him; from pastors to politicians, to journalists and motivational speakers, ordinary women, lawyers, men and musicians. In that monument we see the originality in Nkrumah, his ideas, ambition, drive, passion and vision for our continent.
For Nkrumahist's, it is a unifying symbol. Ghanaians all over the world would be seen in that monument; it would bear testimony of our resolve and commitment to all the ideals, wishes, hopes and aspirations of the Osaagyefo and his vision for Ghana in particular and Africa as a whole. Already our African American brothers and sisters are digging deep into this man to find answers. We have groups like the All African Peoples Revolutionary Party (AAPRP) ever passionate about Nkrumah and mobilizing forces all across the African continent to know more about him. In our minds eye, that statue is a symbol of greatness. For us, we are inspired by the fact that our aims and objectives can never be swept under any carpet because like the Nkrumah statue, they transcend the borders of the carpet, no matter how big they are. It would also serve as a drive and aid our endeavors as a people to reaching the top no matter what.
The Tourism Potential Benefits
If well sold, this broken statue is a treasure island. It would attract tremendous fortunes of wealth into the tourism basket. The industry will experience an exponential growth never envisaged or occasioned in Ghana. It all has to do with the way we go about it. As we speak, there are millions of people out there who need to be given a reason to undertake annual pilgrims to Ghana, the birth place of Nkrumah. Once this reason is adequately provided, we can be sure that Ghana would become the next 'Mecca' in its own right. Let us assume without admitting that these are mere exaggerations and that all the talk about the tourism potential benefits is a hoax or practically impossible, it would still not erase the fact that the sight of the injured statue will always stimulate some discussions of a sort on the character, Nkrumah.
The General Significance of Monuments
The vast majority of our people are hungry but we cannot underestimate the significance of monuments especially when they emanate from the people themselves or relates very well with their socio-cultural conditions. It must be stated that monuments tell so much about a people. It shows their political, social and philosophical understanding of the society they live in. It inspires them to look beyond their current circumstances, reassures them and builds in them a strong faith that makes them feel super human sometimes. This feeling is sometimes necessary. Nations that are generally like that feel less inferior; they believe so much in themselves and in their abilities and it shows in their architecture and general way of life. That is why many people have not been so enthused about the building of the Presidential Palace. First, it was a priority misplaced. Second, it reinforces an alien architecture and third, it bears no timeless characteristics; it is as raw and ordinary as a shopping mall. Thus for a long time to come, it is only a building.
Now, the monument depicting three men planting a flag in space obviously has a lot to say to the people just as its people have a lot to say about it. What about that fearless man who ventured in front of four moving military tanks as thousands of students stood behind demonstrating? Caring less about their warning of running him over if he did not excuse himself, he stood boldly before the tank only to see a surprisingly careful tank driver initiate a bend to avoid him. He stands in the way of the tank again and the same response evolves.
Obviously, all these images and monument bear some emotional significance. The man who stood in the way of the military tanks until this day is unknown. All attempts to find his identity has proven futile. But the image of his act continues to inspire billions. The courage in defiance displayed in the face of brutal oppression is so strong a statement. Ever since, he has only been known as 'the tank man'. This incidence happened in China at the Tiananmen Square after government forces were believed to have shot and killed thousands of people on their way to the square before encountering 'the tank man'. This statement of defiance has so much mental presence that, as we speak, the fire walls of china have made it totally impossible to access the image on the internet in China.
As a nation let us begin to cherish monuments, symbols and effigies no matter how hungry we are. Let us encourage our artists, sculptors and carvers to do more. Let there be no difference between what we call culture and change; let change be the culture and culture be the change. For instance, sitting in palanquins ought to change unless it is robbing in revenue. But even that ought to change eventually. After the invention of the car, we still see new versions of cars emerge everyday and we rush to buy them year after year even when we have some at our disposal. The computer is programmed to be vulnerable to viruses. Thus, we keep buying and servicing every now and then. On the other hand, aside the fact that our local stools bear no expiry dates, they have hardly seen any changes or modifications; once bought, it is forever.
We must learn to do new things all the time and old things news all the time. Let us find ways our local craftsmen and women or artisans or artists or sculptors and carvers discover themselves and benefit from their creativity. If we had moved in to patent Adinkra's outstanding ideas, which says so much about us, Ghana may have been the greatest beneficiary. All over Europe, America, Asia, Latin America, the Caribbean, Africa including Ghana, we watch Adinkra's ideas being used in the fashion, crafts and arts industry and in all, no attempt is made to acknowledge him.
The broken head and arm of Nkrumah's statue embodies the history of the man and the history this country. As shameful as it is we cannot change it. To repair the broken arm and to unite the broken head does not repair the history or the shame. If it is shameful that Nkrumah was overthrown and his statue was once vandalized, it serves a rightful lesson to all of us a people. That is why we should leave the statue alone.
Ernesto Yeboah
[email protected]
10th June, 2009