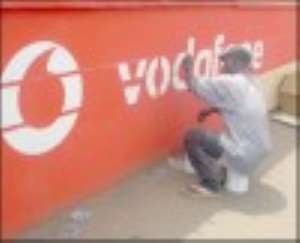 After almost a year of acquiring a 70 percent stake in Ghana Telecom (GT), Vodafone has finally taken over fully by rebranding the premiere telecommunications company in the country.
The rebranding is expected to lead to a stiff competition among the operators in the Ghanaian mobile market.
A night of Ghanaian music and dance was held yesterday at the Accra International Conference Centre in line with the rebranding. Although the take-over was completed last year, in a $960 million transaction that was based on a debt-free, cash-free basis but the company has since retained the Ghana Telecom.
The move led to Vodafone acquiring 70 percent of Ghana Telecom which is the key fixed-line player in the country and the number three mobile operator whereas the Ghana government held unto 30 percent stake in the company.
Before the Easter holidays, there were reports that the name of the company, Ghana Telecom, would be changed to Vodafone after the festivities.
In July 2008 when the British telecommunication giant, Vodafone, took over Ghana Telecom, it promised that it would over the next five years, invest over US$500 million in its operations and network, restoring and expanding network coverage and completing and integrating the fibre backbone.
Vodafone will also look back to previous experience, planning to leverage its experience of rapid network deployment in India and other emerging markets, as well as making available, ultra-low cost handsets to accelerate Ghana Telecom's growth.
Vodafone intends that Ghana Telecom will raise its mobile market share over time to around 25%, reversing recent underperformance
True to their words, the new managers of Vodafone are poised to deliver.
Gradually, the capital city, Accra is being painted in the company's colours of red and white. Traders along the streets now have the red umbrellas and the head office is being painted in red with the Vodafone inscription.
Vodafone Group Plc is the world's leading mobile telecommunications company, with a significant presence in Europe, the Middle East, Africa, Asia Pacific and the United States through the company's subsidiary undertakings, joint ventures, associated undertakings and investments.
The Group's mobile subsidiaries operate under the brand name 'Vodafone'. As of March 31, 2008, based on the registered customers of mobile telecommunications ventures in which it had ownership interests, the Group had 260 million customers, excluding paging customers, calculated on a proportionate basis in accordance with the firm's percentage interest in these ventures.
By Emelia Ennin Abbey