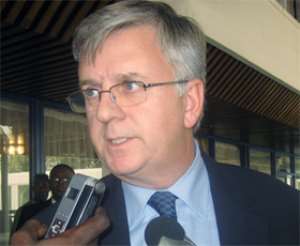 David Venn - CEO, Vodafone Ghana About 850 disengaged staff of Ghana Telecom are to benefit from a Vodafone support package to help them carry on with their lives.
The beneficiaries who were part of Ghana Telecom's total work force of 4000 throughout the country, opted to take advantage of Vodafone's recent generous offer for voluntary disengagement.
A statement issued by the Corporate Communications Department of the country's premier telecommunications company in Accra yesterday noted that the benefits include a customized transition support programme which has been developed to help the disengaged staff in their various endeavors following their detachment from GT.
The support programme comprises counseling and training sessions that have been designed to help the disengaged staff make a "smooth transition to a new life".
Major Don Chebe, Head of the Corporate Communications Department of GT in a telephone interview, said the support is in addition to a severance package which is three months of the current salary multiplied by the length of service with the organization.
"The packages are not the same; some are getting GH¢3000 and more."
The transition support arrangement is to help the disengaged staff put their severance package to good use.
Vodafone said it is concerned that the disengaged staff are equipped with basic skills to plan and manage their personal finances better with particular references to their disengaged packages.
As part of the training programme, individuals who desire to set up their own businesses will be taken through basic entrepreneurial guidance while others who seek regular employment contracts elsewhere will be coached on how to prepare themselves as they hunt for new jobs.
By Emelia Ennin Abbey