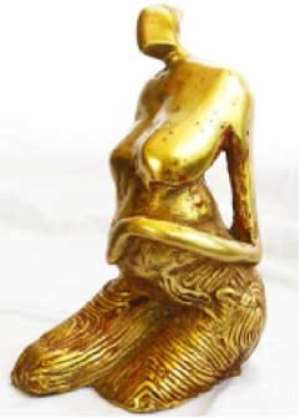 Peju Layiwola, Fourth Month
Those who saw the exhibition, Benin: Kings and Rituals - Court Arts from Nigeria would be familiar with the name and writings of Peju Layiwola. She contributed a piece, "The Benin Massacre: Memories and Experience", to the excellent catalogue of the exhibition, edited by Barbara Plankensteiner, Museum of Ethnology, Vienna.
In the interview reproduced below from the Nigerian paper, Vanguard, Dr. Layiwola speaks about her work as a teacher at the University of Lagos and as a metal caster. She also refers to the continued debate on the restitution of the Benin bronzes that were looted by the British during the invasion of Benin City in 1897.
Peju is particularly qualified in this matter, being from the Benin Royal Family as well as being an Art Historian who appreciates the significance of icons. She mentions Benin casters having to look at pictures and catalogues in order to recreate classical models most of which are in the British Museum and elsewhere in the United States and Europe. How would Westerners feel if their creative artists had to look at catalogues and pictures of classical models because the originals were locked up in African and Asian museums? Requests have been made for returning some of the looted bronzes but so far there has not been any reaction, not even a simple acknowledgement.
www.modernghana.com Instead, the American and European museums are more concerned with finding justifications for their continued detention of the stolen Benin artefacts.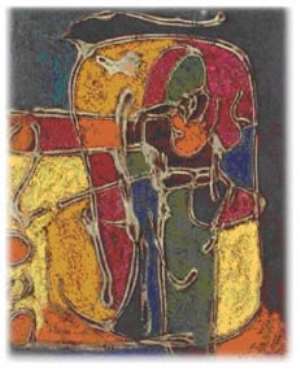 Peju Layiwola, Woman Within.
If the British Museum is willing to work with Nigeria why it is not prepared to make even a symbolic gesture to return a few of the Benin bronzes? Instead, Neil MacGregor, Director, British Museum, provides some strange justifications in his latest lecture.
www.museum.security.org
Do Nigerians not deserve a minimum of respect from those holding on to thousands of stolen Nigerian artefacts?
Dr.Layiwola, whose relation with art goes back to her infancy, imbibed a lot from her mother, Princess Elizabeth Olowu, also an artist. Peju has set up a foundation to train women and children in art and crafts, WYART Foundation (Women and Youth Art Foundation).
wyartfoundation.org
Kwame Opoku, 14 March, 2009.
PEJU LAYIWOLA: A ROYAL JOURNEY INTO METAL CASTING
McPhilips Nwachukwu
French writer and artist, Paul Cézanne's statement that art is a priesthood, which only the pure in heart can come into, is very true about the life and engagements of Peju Layiwola, grand daughter of Oba Akenzua II, visual artist, metal caster, art historian and Head of Metal Casting at the Department of Creative Arts , University of Lagos.
Born to a Yoruba father and Benin mother, the University of Benin trained Princess- artist specializes in Metal, an aspect of sculptural art, which incorporates other metal fabrications like bronze, jewelry, brass and gold smelting, which apart from having cultural and ritual affinities with royal court arts and especially associated with the Bini monarchy is also, significantly perceived as a male reserved profession.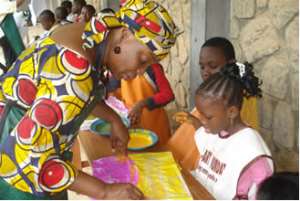 Dr. Layiwola with children at a workshop at the Institute of African Studies, Lagos.
But as adventurous as her soul is, and from what she told this interviewer, Peju, contrary to all expectations, wanted a more challenging thing: Not cut out for painting , crafts or textile, such other genres that have some soft spots for feminine figures; She rather wanted a trial at that, where energy is exerted at high temperatures. And that she found in metal casting.
In this interview, Layiwola, who apart from her romance with metal and Benin cultural totems has also had to engage in other scholarly interventions geared towards the actualization of restitution of stolen Benin court arts, also spoke about other sides of her whole life engaging journey into the world of metal and visual arts.
Excerpts:
Madam, there is strong presence of Benin cultural aesthetics in your works. Would you tell me about yourself?
My name is Peju Layiwola. I am an artist and work principally in the medium of metal and precisely, bronze casting. Over the years I have taken part in several workshops within and outside Nigeria in the arts and that in a way, enriched my arts and has taken me to other spheres of artistic productions like print making.
I also do a bit of mixed media, but principally, my main material is metal, non ferrous metal. I grew up in Benin, my mother is daughter of Oba Akenzua II; and you find out that a lot of my works reference Benin in a way that is quite strong. Stronger than referencing Yoruba, the culture that my father belongs to.
Though my father is Yoruba, he himself grew up in Benin. So, I will say that ¾ of me is Benin and that is why you have that kind of strong Benin influence in my works.
Something must be fascinating about metal that you found it very attractive to work with. What is that thing?
I will say that I got a lot of inspiration from my mother because she studied sculpture at the University, and also worked in the medium of metal. In fact, she was one of the first women to work in bronze casting in Benin; and in fact, in Nigeria, where bronze casting is seen as the exclusive reserve of men.
In Benin like in the rest of Nigeria, women are not known to carve in woods or work in metals except now in contemporary times, when women specialize in sculpture and might delve into metal fabrications and metal assemblages.
But working in metal in liquid form is not an aspect that many women will want to go into because of the risks involved and because of the fact that it is a very tedious occupation.
So, I will say that I got a lot of inspiration from my mother, having seen her as a young girl casting in metal. So, I opted for metal design at the University of Benin, which was broader spectrum from what she studied because she did metal casting under sculpture. But I specialize in metal design, which incorporates jewelry production, metal casting etc.
However, I had always wanted to go into something different and not the usual things you find people specializing like painting or textile or ceramics. I wanted something that was really very challenging. I actually belong to the very set of women artists, who specialize in metal design, a program that was actually not cut out for women.
At that time, automatically people knew that if you were a female, you were expected to go into textile or ceramics, but I wanted to do something else, and something more challenging, and I felt that working in metal would be just good for me.
But has that decision been challenging enough?
Well, as a woman, you should know that there are a lot of taboos that surround the practice of metal casting. I didn't face directly any of the confrontations that one would expect from traditional society because my mother was an initiated figure in the practice of that art form and so, I didn't have any battles to fight as it were.
But working in that medium, of course everybody knows that metal is a very tedious material; and if you have to work with temperatures of that intensity, like about 1500f or even above, you will know that you are dealing with a very risky procedure of smelting. It is a very risky thing that people are not really cut out for it not even the men. So, that, I find very challenging. But the most important thing here is if you understand the chemistry of metal, the physical and chemical properties of a material, you can then easily manipulate it.
For example , you should know that if you subject metal to a particular temperature, it makes it red hot and you are expected to cool it for it to become very soft again because the molecules are re- arranged and this process will return the metal to its original status.
And as you work on it and it gets hard again, you begin the whole process all over again. And you will understand that the other forces that metal uses so that you can easily manipulate it as you like.
The processes are risky yes, and also time consuming. If you were to do simple works of craft or something like that, though am not saying that painting is simple, but you could do that within the space of your room or apartment and you don't need furnace or foundry or elaborate equipments and things like that.
You can see that working in metal requires a lot of equipment and you can't just finish a work over night because it has several stages that you have to go through. In casting for example, you have to cut the moulds, smelt the metal, pour the smelt metal into the moulds and then allow it to dry and all of that. It takes a lot of time.
Of course, the cost is another aspect to look at. The cost of production is quite expensive, more especially these days of little or no light. Gas is so expensive, metal it is quite expensive too, and I work principally with brass and copper, and most of these metals are imported from outside of Nigeria and they are quite expensive to purchase. These are some of the challenges I encounter.
Considering the kind of attention that your practice and scholarship is giving to Benin art and tradition, and also considering the peculiar history and debate that shrouds Benin Court arts, don't you think that people will label you an activist?
Well, if you look at it in that direction, it will look like breaking tradition and breaking away from the norm. But I like to say that there is no society that is static. Every society is dynamic, it keeps changing. But I also want to remind us here that even when we want to talk about the processes involved, people will say bronze casting has a lot of taboos that prevent people from trying at the craft because they believe that it is not everybody that should handle such secret materials.
And also the process is so tedious for women, especially those who are having babies. And I will say here that some of the other processes that are involved in other arts that women are allowed to practice like pottery are also aspects that come under metal casting.
So, taking the whole story as an art is novel, and people are bound to react to that. But I tell you again, that with the way schools are being set up, visual art schools in different parts of the country, the curriculum is tailored towards the British style.
If you didn't have these biological and cultural connections with your mother, do you think you would be in this romance with metal sculpturing?
Well, my mother has her own story concerning how she came into bronze casting. But in my own case, I got in between having expanded my knowledge beyond the frontiers of western education. And that has particularly helped a great deal. Meeting her and working with her and even seeing her do it, of course, opened my eyes to possibilities.
But like I said earlier, my contact with metal at the university expanded my own scope in metal works. Metal casting is just an aspect of what I studied. Metal smelting, jewelry, gold smelting are all other aspects of metal works that I studied.
You were in Chicago recently. What did you go to do there?
Yes, it was at the Art Institute of Chicago, where I gave a lecture that closed the big show; a travelling exhibition that moved from Vienna through some places to Chicago over a two year period. It was an exhibition that was titled; Benin Kings and Rituals: Court Art from Nigeria.
It showed some of the works that were taken away from the Oba's palace in 1897 by the invading British forces. During that invasion, many of the works were taken away and sold and are now resident in different parts of the world. Some in Germany, some in Britain and in private collections.
So, what the exhibition did was to bring about 320 of those works from private collection, from public spaces and brought them together in one show, which was curated by Barbara Plankensteiner for the Museum of Ethnology in Vienna.
So from there that show moved to four other countries. And to end the show in Chicago, I gave a lecture, where I looked at the aspect of memory and the kind of amnesia that comes out of the gap created by the works not being in Benin today.
You find out today that a lot of the carvers and casters in Benin as the last resort look at pictures in books and catalogues in order to recreate what their ancestors had done because these are classical pieces from Benin.
I also looked at the incidence of Benin massacre and how the artists are beginning to re-invent in the absence of these artifacts and what memory actually means as against history. That was what the discussion was all about.
One expected an objection, especially from the Benin royal families to be part of this exhibition given that the whole of Nigeria is clamouring for a return of these artifacts. Don't you think that your participation, kind of endorsed continuous Western hold on these works?
Well, the works have been away for 111 years. So, they have been in Europe for a very long time. True, there have been arguments for the restitution of these works.
The fact that, there was collaboration between the Benin royal family, who lent about 20 works from the collection of the Oba of Benin, and a collaboration from the National Museum, which also helped in putting the troupe together do not in any way reduce the idea that those works should be returned to Nigeria.
If you look at the preface to the catalogue, the Oba has continuously stressed it very seriously and very unmistakably that the works be returned to Benin. It is also about propagation your own culture and making your voice heard.
A great number of people that witnessed the exhibition did not even know that those works were in their museums. And before the works came to Chicago, there was protest by Black Americans and Nigerians living in the city in anticipation of the exhibition coming to the Art Institute in Chicago. The fact that we were collaborators does not mean that we agreed… however, if we said we were not going to be part of the exhibition, well the exhibition would still have gone ahead to hold.