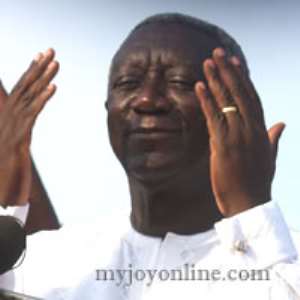 After reading the story that ex-president Kufour should return some cars to the state on myjoyonline.com I felt the ex-president should be allowed to keep the car(s), I don't even know how many BMWs that we are talking of.
However, I believe our ex-presidents deserve the highest protection that the nation can afford to give them. We can't give anything less than this. Having said that I am also of the opinion that for security reasons ex-president Kufuor must return the cars to the state. Why am I saying this? I do believe that these vehicles are not just any ordinary cars. They might be equipped with all sorts of gadgets, gadgets that only the state security apparatus can be in possession and control of. Can one image a situation where Kufuor's cars have listening devices that could be eavesdropping on communications taking place within the new government and passing whatever they hear onto the Coffee Shop Mafia? This, if it exists, will be a disaster for the current administration. For this sole reason, I will prefer that government repossesses the cars in question.
On the other hand, I will prefer that the government should provide the ex-president with money to procure his own fortified cars for his protection. This is to avoid a situation where the ex-president might think that vehicles given to him by the state have been bugged or tempered with the air of suspicion is still with us.
There are profound national security issues bordering this case. Both the state and the ex-president have a case and we should work out a solution that is
amicable to both sides.
As for the hue and cry about varying conditions of the ex-president, as advanced by Frank Agyekum, I will say it's just noise and nothing else. The NPP stripped ex-president Rawlings of his privileges and my question is, where was the latter day defender of the Ghanaian constitution, Frank Agyekum? What is salt for the goose is salt for the gander. Our politicians must know that nothing is cast in stone. Come one day, the people of the land will speak with their thumbs and they who think highly of themselves will be stripped of the powers they wantonly wield. Does one realize the agility with which people like Kwadwo Mpiani hurry to radio stations to "defend" their past acts? A few weeks ago these men and women were the law onto themselves. They talk to people just anyhow because of whom they think they were.
If Frank Agyekum wants us to accept his argument, then we should as well ask ex-president Kufuor to keep the aircrafts he used when he was president of Ghana. Varying the conditions of the former president indeed! Unfortunately, this
"tin-god" was created by the NDC for the benefit of ex-president Rawlings.
This brings me to another point about our constitution. Why is some aspect of the constitution couched in words that leave so much room for people to act capriciously to their own benefits? Why can't it be specific as to which cars must be provided for our ex-presidents? I am not saying that our laws should be cast in stone, but smart people must be forward-looking and foresee the loopholes they create in our laws that allow some to act in manners that satisfy none but themselves. Even when the law is clearly laid out, the powers-that-be defy them with impunity.
Just take the recent issue concerning Akufo Addo's SUV as an instance. Whereas it is stated that no minister can buy such vehicles, if the vehicles have not been used for some specified number of years, Akufo Addo bought one of those official vehicles and registered it in his name and when the vehicle was intercepted at Opera Square, all hell broke loose. It was all over the place the
NDC government has seized Akufo Addo's car, car that he should not have had in the first place. Besides that he continued to used state vehicle even when he
ceased to be a government official.
The incidents did bring to the fore, some issues concerning how we do things in Ghana. In this age and time, our police cannot depend on just the looks of a vehicle and jump to the conclusion that the vehicle belongs to government. That is a backward way of doing things. The seizure of the Barclays Bank (Gh) MD's vehicle is most embarrassing and sends wrong signal to the business community.
Business hates bad news, I don't know how much I can drive this home. In developed countries, the police can tell who owns which car by scanning the number plate. In my country it's not so. Even the past government can't tell the number of cars they imported and their where about. I mean the state has control over the inventory of things it buys with the taxpayer's money.
I am at a lost as to why vehicle identification numbers from CEPS cannot be marched with data at the DVLA so that we can know those in possession of those cars that were imported by the state. I don't know what is wrong with this country.
Conclusion: I don't think a BMW, even if it is armoured, is too much for us to provide for ex-president Kufuor or any other ex-president. The only issue is, are there instruments or gadgets in those cars that are of concern to the national security apparatus? If yes, then Mr. Kufuor must be dispossessed of the cars. In return, the state must provide money for the ex-president to get his own armoured/fortified cars (to the less informed, I am not referring to those tanks you know as armoured cars).
Credit: Ten Factorial, 10 [[email protected]]