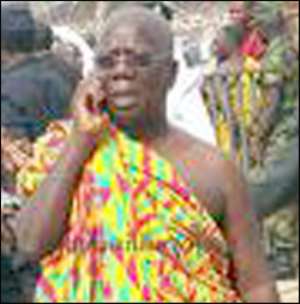 Kwodwo Mpiani The former Chief of Staff and Minister of Presidential Affairs has changed the pitch of the ex-gratia debacle, as he dares the Bureau of National Investigations (BNI) and slams government over its handling of the subject.
Kwadwo Okyere Mpiani, who is at the centre of the vexatious issue, has rubbished the probe the BNI has been ordered to undertake into the correspondences between him and Parliament, describing it as unnecessary because as he put it, "I wrote the letter. If they have any doubts they should ask me."
The Presidency, in its reaction to the ex-gratia awards which the former President and Parliament had approved and for which provision was made in the first quarter budget of this year, claimed did not pass through the proper channels.
Government stated that there was no correspondence in their records suggesting that the Executive had communicated to Parliament on the issue under review, let alone get the required approval.
 "Upon what basis did Parliament sit on the issue if there was no correspondence?" the former Chief of Staff asked on Citi Fm yesterday.
He explained that having been instructed to communicate with Parliament on the issue, he proceeded to do just that, adding that his secretary at the time can be contacted for a confirmation of his assertion.
The sincerity of government in stating that it could not lay hands on any records about the communication from the former Executive to the Legislature is being questioned by political observers.
DAILY GUIDE has learnt that records of the correspondence on the subject vanished into thin air in both Castle and Parliament under the Atta Mills administration, and that the Legislature which should have been contacted about the authenticity of the claim by Mr. Kwadwo Mpiani, was not asked to produce a copy of the said communication.
When copies of the correspondences were finally provided, government is questioning the authenticity of these, DAILY GUIDE has gathered.
It has for instance been asked why copies of the letters now provided did not bear reference numbers - the type found on official correspondences.
In his response, the former Chief of Staff stated that it was peculiar for him to exclude such numbers in his correspondences, adding that samples of his official missives could be examined to establish the truth or otherwise of his assertions.
By A.R. Gomda