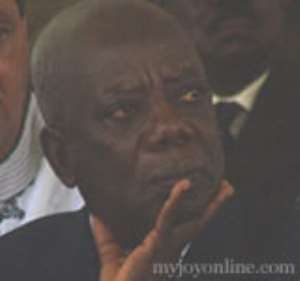 Kwadwo Okyere Mpiani, Chief of Staff under the New Patriotic Party (NPP) administration, is lacing his boots to storm the office of the Bureau of National Investigation (BNI), at Ridge in Accra today.
Mr. Mpiani's visit to the BNI is in response to an invitation he received from the bureau last week that he should report himself to help unravel a number of issues yet to be disclosed to him.
The former Chief of Staff, who was in the Ashanti Region at the time the invitation was sent, explained that he was attending series of funerals in his hometown and would not be in Accra until this week.
Mr. Mpiani told a number of media houses that he had arranged with the BNI boss that he would make himself available the moment he reaches Accra.
Media reports speculated last week that a number of BNI agents stormed the Accra resi-dence of Mr. Mpiani after he had refused to report himself to the bureau.
He however debunked the speculation and said to the best of his knowledge, nothing of that nature happened.
The former Chief of Staff has also noted that he is ready for any form of prosecution or persecution from the current government and that he has no cause to worry because he has clean hands.
Mr. Mpiani's invitation follows a similar one from the bureau last week to the former Foreign Minister, Akwasi Osei Adjei, who was ordered to report himself to help in investigating a case in which the government of Ghana pleaded with the government of India to wave a ban on the exportation of food products so as to allow rice to be exported from the country to Ghana.
On arrival at the BNI, Osei Adjei was not charged with any offence but a number of security agents were dispatched to follow him to his private residence and ensure that he handed over his traveller's passport to them.
The invitation of former government appointees to report to the BNI is happening days after the Security Advisor to the President, Brig. Nunoo-Mensah, told a couple of media houses that the prosecution of former government officials alleged to have been corrupt, would be strictly considered as a National Security issue.