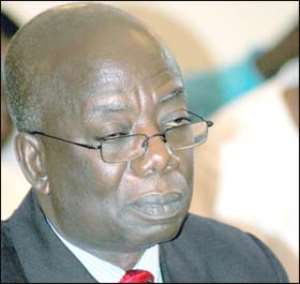 Mr Kwadwo Mpiani, former Chief of Staff
Mr Kwadwo Mpiani, former Chief of Staff, has been finally released from the custody of the Bureau of National Investigation (BNI) at about 11pm Tuesday after over eight hours of questioning.
It is still sketchy what really transpired during the day-long interrogation as neither he nor the lawyers is willing to talk to the press at the moment.
But media speculations say he might have been possibly questioned on his role in the [email protected] celebrations and on a wide range of issues spanning through his tenure in office.
Immediately after his release, Mr Mpiani was given a warmed reception by party functionaries gathered at the BNI office.
Joy FM's Evans Mensah reporting from the BNI headquarters annex, near the 37 Military Hospital, where he was held up said the ex-chief of staff was congratulated by his colleagues.
He said the lawyers are reluctant to talk to the press because he was tired and needed some rest as several questions posted by our reporter yielded "no comment" from the lawyers.
Mr Mpiani was taken away in car from the BNI premises by his supporters supposedly to his residence.
Around 8pm yesterday, ex-ministers who served under the NPP administration among party sympathizers, numbering over 200 besieged the BNI premises demanding to know the whereabouts and condition of their colleague.
They included Dan Kweku Botwe and Stephen Asamoah Boateng, two former information ministers, Dr. Addo Kufuor, ex-Defence Minister, Mrs Gladys Asmah, ex-Fisheries Minister and a host of others.
Story by Isaac Essel