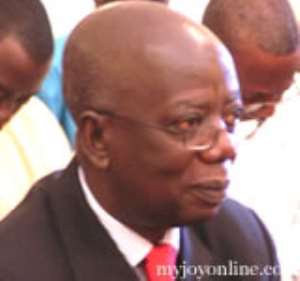 Mr Kwadwo Mpiani, former Chief of Staff
Mr Kwadwo Mpiani, former Chief of Staff, is scheduled to meet the Bureau of National Investigation (BNI) for another marathon of interrogation today.
The forthright former Chief of Staff was yesterday, Tuesday, subjected to over ten hours of questioning by the BNI, raising suspicions and causing agitation among leading members of the erstwhile Kufuor administration.
Mr. Mpiani, in the company of his lawyers - Yoni Kulendi, Egbert Faibille and Hamida Nuhu -, was released late midnight to a rousing reception by former ministers of state and sympathizers of the opposition NPP who had gathered at the BNI office annex close to the 37 Military Hospital in Accra to throw their moral support behind him.
According to Mr Mpiani's lawyers, their client was interrogated on a wide range of issues including expenses made by the state in the organisation of Ghana's 50th anniversary celebrations, Zoomlion contracts, sale of state lands and issues relating to the Ghana International Airlines.
He was also questioned on the expenditure regarding the UNCTAD conference.
Joy FM's Evans Mensah who monitored his release reports of a state of solidarity in his residence where all the aficionados have gathered.
The immediate former president of Ghana, Mr. John Agyekum Kufuor, was among the conspicuous party bigwigs who thronged Mr Mpiani's house last night.
Whilst in custody, sympathizers outside the BNI building were not privy to details of the meeting, but on the contrary, Mr Mpiani was fed with happenings outside.
"When I was there, the guys (BNI officials) came and said; chief your people say we are injecting you, they say we are killing you. (He replied,) I said they support me that is why they are saying that."
He was grateful to members of the NPP for their unflinching support stressing Tuesday's event "is a beginning of things they (BNI) want to do; this is not the end, I will be talking to them again".
He opined that but for the presence of his lawyers "may be they would have kept me there or something like that".
Meanwhile information reaching Myjoyonline indicates that the leadership of the party (NPP) will later this morning meet with party supporters across the country to rally support for the former Chief of Staff.
The Ministry of Information is also expected to brief the media on what transpired at the BNI yesterday.
Mr Sammy Crabbe, Greater Accra Regional Chairman of the NPP, has called on the government to explain the procedure being used to question Mr Mpiani to avoid speculations that might create "problems".
He said after the party has been duly informed then it "will make a decision as to what we should do".
He emphasized that the NPP believes in rule of law, but all that they were calling for was that "due process should be followed".
Story by Isaac Essel/Myjoyonline