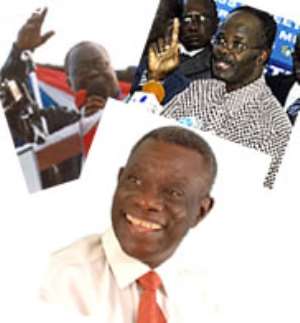 The editor of the Dispatch newspaper, Ben Ephson, has predicted a second round of balloting in the December presidential elections.
The pollster and political analyst said his analysis of the trends in various opinion polls provides grounds that a run-off would not be a remote possibility.
"It looks like we are heading for a re-run," Mr Ephson told Paul Adom Okyere, host of Good Evening Ghana, a political analysis show on Accra-based Metro TV.
Although he would not predict specific numerical outcomes, Mr Ephson said the candidates of the two major parties, the ruling New Patriotic Party and the opposition National Democratic Congress would have to brace themselves for a second contest which will be 21 days after the first ballot.
The 60-minute programme beamed with two of Ghana's finest morning show hosts, Joy FM's Kojo Oppong Nkrumah and Peace FM's Kwame Sefa-Kayi.
The panelists discussed issues bothering mainly on the up-coming elections and the preparation of their media house ahead of the national exercise.
Mr Oppong Nkrumah raised doubts about a possible re-run in the face of recent developments in the political arena, especially the "Nduom factor" which could have somewhat shifted the balance of popular opinion.
Recent attacks launched at Dr Paa Kwesi Nduom, flag-bearer of the Convention People's Party (CPP), may have reduced confidence in the Nkrumaist fraternity.
The party's youth organiser Kwabena Bomfeh Jnr. had in a letter, circulated to the party leadership, challenged Dr. Paa Kwesi Nduom to purge himself of newspaper allegations that he had been negotiating for ministerial positions with the NPP and the NDC, and also creating parallel structures within the party. Dr. Nduom has denied all charges against him.
Mr Sefa-Kayi maintained that a lot had changed in the media due the elections.
For the panelists, the need for a peaceful and a violent-free ballot must drive discussions and comments in the media.