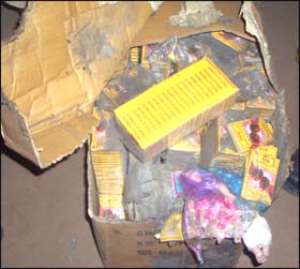 The Ghana Police Service has dismissed the National Democratic Congress (NDC) allegation that there were ammunitions among the fire crackers that exploded in the Anyaa suburb of Accra a few days ago.
A release from the Police Headquarters stated that preliminary findings undertaken by a team of experts from the Police, Armed Forces, Bureau of National Investigations (BNI), Defence Intelligence, Ghana National Fire Service and NADMO suggest that the explosion might have been caused by an assortment of fire crackers containing gun powder.
The police explained that the place where the fire crackers were kept was not appropriate for the storage of such items.
"The loud explosion and its impact in the surrounding areas was not as a result of any hidden ammunition but rather the high concentration of fire crackers," the police pointed out.
Judging from the fact that there was power outage at the time the explosion took place, the police explained further that the items could have been exposed to a naked light which might have caused the explosion.
After tedious probing of the location the police stated: "No single bullet or empty shell was found in the ruins to suggest that there was ammunition in the items."
Continuing, the police added that "the experts say that the initial debris collected on roofs of buildings around supports the finding".
The police have, based on interaction with residents around, established the fact that the owner of the warehouse deals in fire crackers and toys.
The security agency therefore stated that the items found so far were not military-inclined materials, adding also that the public supported and cooperated with the committee set up by the National Security Council to investigate the incident.
The NDC, it would be recalled, organized a press conference and accused the ruling government of stockpiling arms ahead of the December 7 polls.
The party also accused some senior police officers of not performing their functions properly, citing specifically the Volta Regional Police Commander and his Ashanti regional counterpart.
By A.R. Gomda