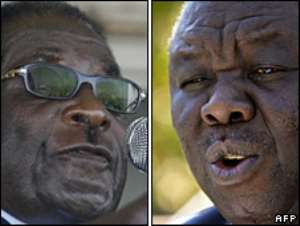 Zimbabwe's opposition leader Morgan Tsvangirai remains hopeful a power-sharing deal with President Mugabe can work, despite an impasse in talks.
Mr Tsvangirai said the deal was sound but there was "a problem of trust" between himself and Mr Mugabe.
Talks on sharing cabinet posts have stalled over Mr Mugabe's insistence on appointing his supporters to key posts.
Earlier, the two sides appealed to the regional grouping, Sadc, to mediate in the long-running negotiations.
Both Mr Tsvagirai's Movement for Democratic Change (MDC) and Mr Mugabe's ruling Zanu-PF called on Sadc (Southern African Development Community) and the African Union to help broker a deal.
Difficult negotiations
Four days of negotiations ended on Friday with the two sides unable to agree on a division of government posts.
Speaking on Saturday, Mr Tsvangirai insisted the month-old power-sharing deal could be rescued, but that Mr Mugabe was dominating the negotiations and failing to listen.
"There's nothing wrong with deal, that's why we signed. It's only when it came to implementation that we ran into problems," he told thousands of supporters at a rally in Bulawayo, Zimbabwe's second city.
"The past four days have been a dialogue of the deaf," the AFP news agency reported him as saying.
"It was one-man monologue. Mugabe does not negotiate. He just says 'No'," AFP reported.
The efforts to reach a deal were mediated by former South African President Thabo Mbeki.
Mr Mbeki oversaw the signing of the power-sharing framework deal a month ago, but has since stepped down from office in South Africa and is now attempting to construct Zimbabwe's new government as a private citizen.