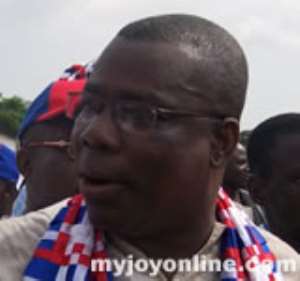 The ruling New Patriotic Party is set to open nominations for the vacant Asante Akyem North Constituency, following the death of the incumbent Kwadwo Baah-Wiredu.
Already, the vacant seat has provoked huge controversy with accusations that a leading member of the NPP, Andy Appiah Kubi, was responsible for the death of the incumbent, an allegation he has vehemently denied and threatened court action.
Appiah Kubi lost to the incumbent and late finance Minister, Kwadjo Baah Wiredu, in the party's primaries.
Chairman of the NPP, Mr. Peter Mac Manu, told Joy News, the party is racing against time to elect a new parliamentary candidate, to represent the constituency.
"The EC has opened nominations so we have to quickly elect a candidate to represent the constituency,so we can present him to the EC."
He said the under-fire candidate Andy Appiah Kubi and all others interested in the parliamentary seat are eligible to contest.
However, in the embattled Suhum Constituency, the party is yet to resolve the stand-off between incumbent Opare Ansah and Bryan Acheampong.
Four parliamentary primaries held to elect an aspirant have ended in a stalemate with the two candidates polling 51 votes apiece.
Party chairman Peter Mac Manu said the National executives have taken a decision on the matter, but are yet to communicate it to the two candidates.
According to him, a meeting will be convened immediately between the Eastern Regional chairman of the party and the two candidates, to disclose the decision taken by the party hierarchy, before it will be made public.
Peter Mac Manu however denied knowledge, that one of the candidates Bryan Acheampong has secured the forms from the Electoral Commission.
"I don't know if he has bought a form. In what capacity did he buy it, as an NPP candidate or a private candidate," he quizzed.
He also disclosed that the party will open nominations in the Ho central constituency after the chosen candidate stepped down.

Story by Nathan Gadugah