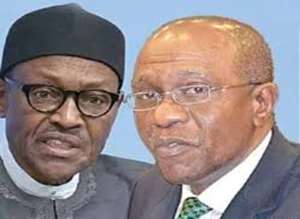 President Buhari and CBN Governor Emefiele
It has been over 24 hours since the Supreme Court issued an order prohibiting President Muhammadu Buhari from withdrawing the old N200, N500, and N1000 notes from circulation. The government is yet to act accordingly. This is not the first time this has happened.
All government officials, including the president, the Minister of Finance, the Governor of the Central Bank of Nigeria, and the Attorney General, must follow the Supreme Court's decisions, except President Buhari, an ex-military despot dressed in democratic presidential agbada refuses.
It is a President's duty to obey court judgments in an environment of laws and governance, but not Buhari, the itinerant President who has sought to break one rule after another. And has conditioned an environment that allows Nigeria's central bank governor Godwin Emefiele to also show disobedience.
The president through his body, verbal, nonverbal and authoritarian manner continues to abuse the rule of law and his official follows are doing the same.
It will be nice for the Nigerian Bar Association's president, Yakubu Maikyau, to publicly tell Buhari to obey the supreme court order as soon as possible, which will make the Nigerian Bar Association a true body of defenders of justice.
Only a few people, including human rights/constitutional law attorney, Professor Mike Ozekhome, my intellectual buddy, and Mr. Femi Falana, have urged Buhari to stop acting like a military tyrant by overturning court orders. They tell him that since he declared himself a "converted democrat," he should do as he says.
The moment the Supreme Court issued its ruling, Buhari's Attorney-General, and reportedly son-in-law, Abubakar Malami should personally broadcast to Nigerians that the ruling must be followed immediately, which will help control confusion in the society.
Isn't this the same man who stated that the rule of law is determined by the authorities? In other words, 'na Buhari and me' can define the rule of law in any given situation, not a court of law. This is the pinnacle of the misuse of executive power.
Buhari, Malami, and Emefiele, to name a few, understand that the moment they leave their current respective offices for all these accumulated contempt of court orders that are at odds with Nigeria's constitution and international human rights obligations they could face individual charges, indictments, fines, and even imprisonment.
The next Nigerian president thankfully will not be an ex-military figure with a full blown dictatorial and tyrannical approach to national affairs and the rule of law.
No matter how difficult it becomes for him to understand the judicial process, the newly declared elected president of Nigeria, Bola Tinubu, an American trained accountant with democratic exposure, cannot prevent the likes of Buhari, Emefiele, and Malami from being held accountable for their violations of court orders.
Despite the court order, this man Emefiele, who once told any Nigerian to "have a heart attack" if they were concerned about his fight to run for president as a politician while remaining as our treasury chief, insisted that the N200, N500, and N1,000 banknotes became illegal tender after the February 10 deadline expired. He is at it again.
And now the Supreme Court has ordered that the Central Bank of Nigeria (CBN) recirculate the old notes. At the time of writing, the CBN and President Buhari have not addressed the country to begin following the court order.
While I agree that Nigeria is not a typical democracy, one fact remains: the people have been unfairly punished.
The decision was made by a seven-member Supreme Court panel led by Justice John Okoro. In the judgment delivered by Justice Agim, the panel of justices that sat on the case included Emmanuel Agim, Amina Augie, Mohammed Garba, Ibrahim Saulawa, Adamu Jauro, and Tijanni Abubakar (we all remember him along with Adamu Jauro, who in the Lawan vs Machina case, did not sacrifice substantial justice for technicality).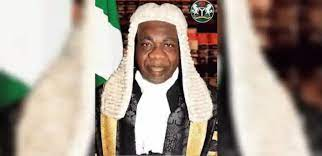 Justice Emmanuel Agim
Justice Agim reminded Nigerians that Buhari's announcement on February 16, 2023, that only the N200 note would remain legal tender rendered the country's democracy a sham.
According to Justice Agim, "If the President of the country, or any authority or person, refuses to obey court orders, the rule of law that underpins our democratic governance becomes illusory. Disobeying court orders by the President in a constitutional democracy like ours is a sign that the constitution has failed and that democratic governance has devolved into a mere pretense, with autocracy or dictatorship taking its place."
The Supreme Court ruled that Buhari's unconstitutional use of power over the use of old Naira notes violated citizens' fundamental rights in a variety of ways and added that such use of power by the President was not permitted under democracy and was an insult to the constitution.
Despite the clarity of these orders and judgments, the government continues to disregard them with near impunity.
I will conclude that Muhammadu Buhari's Nigeria has been ruled by tyranny for the past eight years; may it end on March 29, 2023!