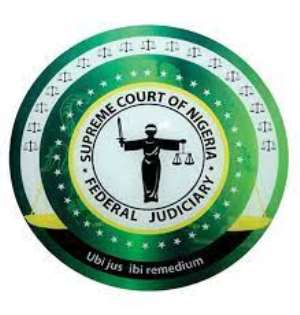 How apt are the above words in the headline for the Ariwoola Supreme Court now being described as "supreme court of technicality and injustice"?
Today Hope Uzodinma of APC is the Imo State governor because the Supreme Court upturned the result declared by the Independent National Electoral Commission (INEC) that affirmed Emeka Ihedioha of PDP who had the highest votes to win the elections, yet Uzodinma of the APC, who came a distant fourth with the lowest votes, was made the governor.
When Ihedioha approached the apex court to review or reverse its January 14, 2020, ruling that nullified his initial victory in the election. It refused.
Ironically the current supreme court chief justice, Olukayode Ariwoola, was part of the panel who delivered the judgment.
Ariwoola said, "Certainly, this court has no inherent power to grant what is being sought; it is beyond the powers of this court. There is no constitutional provision for this court to review its own judgment."
In a minority judgment, Justice Centus Nweze in his opposing judgment made this historical defense. "In my intimate reading... the meat and substance of Ihedioha's matter was lost to timeframe. This court once set aside its own earlier judgment and therefore cannot use a timeframe to extinguish the right of any person. This court has powers to overrule itself and can revisit any decision not in accordance with justice." Hmm.
In a colloquial way, let me ask Justice Nweze, 'how market'?
Justice Nweze, the chickens have come home to roost- things that you said in the past have eventually returned to face you. Figuratively, "what goes around, comes around".
Justice Nweze in 2020 further said "the decision of the Supreme Court will continue to haunt our electoral jurisprudence for a long time to come", adding that without evidence of meeting other constitutional provisions, the court misled itself into declaring Uzodinma as governor. Justice Nweze asked why a case like this full of merit be set aside.
The above words should now apply to the Lawan/Machina verdict in the 3-2 majority judgement (an unusual composition) by Justices Chima Centus Nweze.
In the matter of Lawan/Machina, the supreme court declared Senate President Ahmad Lawan a senatorial winner who did not contest along with Bashir Machina, who contested, and rightfully won as the senatorial candidate of the APC in Yobe north.
Yet, it is now clear in the eyes of the people and many legal critics that Justice Nweze along with his co-justices, Mohammed Lawal Garba and Justice Helen Moronkeji Ogunwumiju blindly applied rules on technical or mechanical grounds.
The human face, merit and justice meant nothing to this trio for whatever inner, outward, conscious, or unconscious reasons. We will never know.
Justices Emmanuel Agim and Adamu Jauro in their dissenting decision focused on virtue, a real human approach to the matter of rule of law.
Societally, at least by mere appearance this was an instant justice, this type of judicial endings could cause the lack of sustained public faith in the judiciary.
Let it be known that Machina looked up to the judiciary in times of distress twice through the Federal High Court and the Court of Appeal and found real justice only to find himself in the supreme court, a composition of 3-2 decisions that denied an election he won.
The three judges chose to base their decisions on mechanics and technicalities. So a real person who contested and won the vote of the people and had at no time withdrawn from the race is kept out on technicalities.
Let's remember Lawan never participated in the INEC legally supervised and approved APC primary held on May 28, as he withdrew voluntarily to participate in the presidential primary held on June 8, 2022.
Lawan suddenly emerged as the candidate of the counterfeit primary election and was declared by Justice Nweze and his co-justices as a sudden winner. A June 8, 2022, fake primary election held by the APC which was in breach of Section 84 (5) of the Electoral Act. Again, INEC did not monitor the primary election that miraculously produced Lawan.
These three majority jurists in the highest positions in the supreme court know that they are not technical humans but real human beings in real society, and I hope they still know in their mind that democracy, freedom, equality, fairness and justice are the baseline principled beliefs.
For a case that was hurriedly executed in the 3-2 decision unlike historical situations where a case reaches the Supreme Court, then it typically goes through a process for several weeks or even months, because it is essential on social grounds that the precedent the majority opinion sets will be the standard by which future laws are measured.
Given the legal and social uproar surrounding this case and the obvious shortcomings of the case of Lawan/Machina, the Supreme Court can in truth overturn or change its own precedent.
This odious decision by Justice Nweze and his co-justices is a determination with no human face, no people's faith, no societal logical, it is an abhorrent decision disallowing Machina's electoral constitutional right to represent his voters.
Since the Lawan/machina decision as a psychological scientist I continue to ask lawyers from America, Britain, and Nigeria the same question. Because the words from these 3 judges are done in the supreme court, they are final, but I ask, what if they are damaging to our democracy and our Constitution?
What if this 3-2 decision looks horrendous for the free growth of a society as it fails to recognize human dignity?
If on human and social grounds our young democracy stands to lose because the courts prefer to adjust to what is called the "Evils of Technical Justice" as noted by Attorney Ebun-Olu Adegboruwa, then Nigeria as a developing democracy although sometimes act as an anomaly full of the psychology of Nigeriantitis (Nigeria-type society problems) is still a republic.
The notion of equal justice is essential for democratic sanity.
The supreme court as guardian and interpreter of the Constitution cannot be destroyed as in a case like the Law-and-Machine-matter, where it now is seen as the supreme court is allowing the concentration of too much power in too few hands.
The supreme court should reverse this weird decision. An abhorrent decision that came from what I call the Supreme Court's extreme technical-wing majority, at least in this matter. No, it cannot be a settled law. And this will not be the first time a junk decision is reversed.
I am told by attorneys that the bedrock of English type law is the doctrine of stare decisis, the principle that courts are generally bound to abide by past rulings. For example, the American Supreme Court, has left itself wiggle room for reversal, as adherence to precedent is not an unalterable order.
Here are some of the big historical examples of when the American Supreme Court has reversed itself.
Plessy v. Ferguson (overruled by Brown v. Board of Education)
The Supreme Court ruled in Plessy V. Ferguson (1896) that race-based segregation was legal, a decision that was not overturned for more than 50 years.
However, the court in 1954 ultimately overturned Plessy V. Ferguson, establishing that race-based segregation was unconstitutional under the Equal Protection Clause of the Fourteenth Amendment.
Pace v. Alabama (overruled by Loving v. Virginia)
Pace V. Alabama (1882) concerned Tony Pace, an African American man, and Mary Cox, a white woman, who were charged with adultery and fornication in Alabama under a law that severely punished interracial relationships.
In Loving v. Virginia (1967), the Supreme Court reversed that ruling in another case- nearly 100 years later.
Also, within the Nigerian contest, I bring out some points in the enlightening article seen in barristerng.com by a Nigerian Attorney, Joe-Kyari Gadzama.
Gadzama, stated that "the Supreme Court has the rights to overrule itself in a subsequent appeal and may do so in some instances and upon the fulfilment of certain conditions"... The case of Stanbic IBTC Bank Plc v L.G.C Ltd (2020) 2 NWLR (Pt 1707), the Supreme Court Per Abba Aji held inter alia that it has the power to set aside its judgment and can do so under certain conditions."
Here are some conditions Gadzama noted:
Where there arises the necessity for carrying out its own meaning and to make its intentions plain.
When any of the parties obtain judgement by fraud or deceit.
Where it is obvious that the court was misled into giving the decision under a wrong belief that the parties consented to it;
Where the procedure adopted was such as to deprive the decision or judgement of character of a legitimate adjudication.
Where the decision is contrary to public policy and will perpetuate injustice.
Yet, Justices Chima Centus Nweze, Mohammed Lawal Garba, Justice Helen Moronkeji Ogunwumiju, unlike Justices Emmanuel Agim and Adamu Jauro, took the technical journey to arrive at this miserable decision for reasons best known to this conscience.
Oliver Azi, a law researcher, or student at the University of Jos in an article seen in barristerng.com reminded us of the words of Justice Okoro JCA in the case of BALOGUN V. E. O. C. B (NIG.) LTD (2007) 5 NWLR (1028) 584.
"Good law, in my opinion, must have a human face; good law should not patronize technicalities that will give rise or room to undeserved victories in litigation. Good law should discourage technicalities... Good law will not encourage a situation where a party in litigation will only return home with a pyrrhic victory, which in reality is no victory at all."
From the point of human psychology, Machina is not only the victim of this horrible decision, as such should this terrible decision not be reversed it will continue to have victimized thousands of people.
It is left to good Nigerian lawyers, law students and the citizens to decide if this anti-democratic and extraordinary decision will escape public accountability regarding the reality that judge's loyalty is to the rule of law, not to the technical gods, not to the mythical gods, not to the power that be, not the political party.
I predict on psychological bases that no matter how long this case takes, Machina, whom I do not know or have met at the time of this writing, will rightly take a senatorial seat one day.
The increased public scrutiny of the Ariwoola Supreme Court must continue, but Judges should never be verbally and physically threatened and should not live under fear, uncertainty, or pressure.