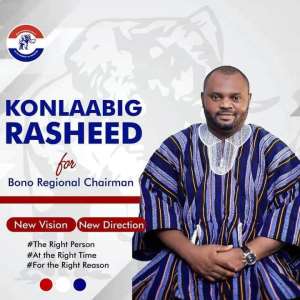 A Bono NPP Regional Chairman hopeful, Rasheed Konlaabig, says his major priority when given the nod to lead the party in the region would be to map out effective and results-oriented strategies that would ensure that the party recaptures all the seats it lost in the last elections.
Speaking to the media after submitting his nominations forms and a cash of Ghc 5,000.00 to the Bono Regional Executive Elections Committee at the regional NPP office in Sunyani last Tuesday, Mr. Konlaabig said he was extremely confident of becoming the next regional chairman of the party to provide a better leadership required to deliver a resounding victory come 2024 and beyond.
New vision
"As my motto goes, new vision, new direction; I am bringing a new direction for the region. The region that used to be the Busia region, the J.H Mensah region that we used to know that decides our national election outcomes… I am bringing out the energy that we've lost over the years. I am bringing out new strategies that would energize the constituencies, revitalize the constituencies for us to capture the lost seats", he emphasised.
He further said "my campaign is purely issue-based. It's a home affair. It's not a contest that we need to wash our dirty clothes outside so I focus on the issues and educate the delegates on them. The decision lies in their hands and Insha Allah when the time comes, I know by the grace of Allah, I'll emerge victorious at the end of the day."
According to him, his message to the delegates is centered around hope and the need to reorganize the party, especially at the grassroot level, saying; "I am bringing a new energy, a new direction, bringing the entire party together to energize the grassroots for them to put up their best for us to consolidate our gains as a party."
Mr. Rasheed Konlaabig is currently the Bono Regional NADMO Coordinator and has been a key figure in the party's campaigns over the years.