Greetings to you Mr. President and I hope you are in good health. I equally envisage that this open letter will come to your attention, knowing that many are the people who write to you through this medium.
Nana, since the coming into force of the First Republican Constitution of Ghana on 1st July, 1960, prerogative of mercy for convicts has been known to our political order. The President or Head of State has been clothed with power to grant prerogative of mercy ever since. Article 48 of the 1960 Constitution, Article 50 of the 1969 Constitution and Article 59 of the 1979 Constitution made provisions for the President to grant amnesty to prisoners under specified conditions. Even Military Heads of State had ever granted such a pardon of clemency in Ghana. Currently, Article 72 of the 1992 (Fourth Republican) Constitution provides that in consultation with the Council of State, the President may pardon a convicted person. The types of pardon are well enshrined in Clause 1 (a), (b), (c) and (d) of that Article.
I am aware Mr. President, that upon the strength of this same Article 72 of the 1992 Constitution, you granted prerogative of mercy to over 800 prisoners in March 2020. You have done well by emulating your forebears in this regard. It is this same mercy of the President I beseech for Dr. Sulley Ali Gabass and I do so under Article 72 (1) (a) of the Constitution, 1992. It states, "The President may, acting in consultation with the Council of State grant to a person convicted of an offence a pardon either free or subject to lawful conditions." Consider Dr. Ali Gabass under this clause of Article 72, I beseech you profusely. He did a wrong thing and he was convicted for it. Majority of Ghanaians may want him serve the full sentence. Mindful of my empathy for his sodomised victim (below 16 year old boy), I equally thought as such at the time that he should serve his full prison term. My plea for him now emanates from sheer magnanimity and no relations with him whatsoever. I may have a dissenting voice but I still want to express it. Forgiveness is a true act of magnanimity, sir.
Who Is Dr. Sulley Ali Gabass?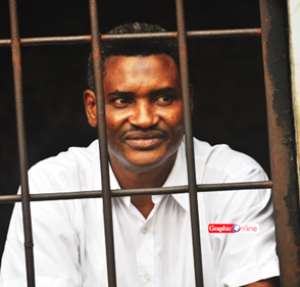 Until he was incarcerated in July 2015, Dr. Sulley Ali-Gabass was a Medical Doctor of the Ghana Health Service (GHS) and his working station was the Effia Nkwanta Regional Hospital in the Western Region. He was employed by the GHS in January 2001. He was born in April 1966 hence, he is currently 55 years old. At the time of his imprisonment, he was married to a wife with whom he had two children. This is all I know about him, Mr. President.
Why was Dr. Sulley Ali Gabass Convicted?
Mr. President, the gentleman I beseech you to grant presidential pardon was fairly tried and convicted for defiling a boy who was found to be below 16 years of age. That was sodomy, sir.
Dr. Gabass' act of sodomy was initially exposed by Manasseh Azure Awuni, a journalist of Joy FM (as he then was). Soon, Dr. Gabass became a national figure for the wrong reason and news about him hit the airwaves almost every day. The whole nation was watching to see justice done and truly, justice was served at the end of the trial.
When the matter came to the fore, Dr Kwabena Opoku-Adusei, then President of the Ghana Medical Association, Dr. Ebenezer Appiah-Denkyeria, Director General of Ghana Health Service at the time and Dr. Eli K. Atikpui, the erstwhile Registrar of the Medical and Dental Council jointly issued a press release. They assured the public that should Dr. Gabass be found guilty, he would not be shielded from penal action. They actually walked the talk. Dr. Gabass was not shielded by any of these three bodies. He was arrested by the police, tried by the court and convicted for the offence.
Dr. Gabass was given the maximum sentence defilement in Ghana (25 years imprisonment) since 2015. He is almost 6 years in prison.
However, the Presiding Judge (Ms. Rita Agyeman Budu) did not find Dr. Gabass guilty for the second count of unnatural carnal knowledge. This was because that charge could suffice if only Dr. Gabass' victim was above 16 years. The judge rightly said that the conviction of Dr. Ali Gabass would "… serve as a deterrent to people who subject minors, whether male or female, to such sexual acts amounting to violence. This act of the accused is very reprehensible and I condemn it in no uncertain terms"
Mr. President, Dr. Gabass committed an offence (defilement of a minor) which Section 101(2) of Act 29, 1960 (Criminal Code, 1960) prohibits. This Section of the law states, "Whoever naturally or unnaturally carnally knows any child under sixteen years of age, whether with or without his or her consent, commits an offence and shall be liable on summary conviction to imprisonment for a term of not less than seven years and not more than twenty-five years."
Mr. President, Justice Victor Jones Mawulom Dotse of the Supreme Court of Ghana once encouraged the law enforcement agencies and the courts to be at the vanguard of the crusade of fighting the ever-increasing moral decadence in the Ghanaian society. I agree with him and I support the fact that Dr. Gabass was jailed for committing the stipulated crime. He is currently serving his 25 prison years at the Nsawam Medium Security Prison in Eastern Region. However, I suggest humbly that you should consider freeing him in 2022 or 2023 (at least before you leave office).
What Are the Grounds for My Request for Presidential Pardon for Dr. Gabass?
Mr. President, I am informed that there are qualifying conditions under which a convict is granted a presidential pardon. For example good conduct in prison, ill-health, age and the person should have served at least one-third (1/3) of the total prison term.
My plea for him is based on the following conditions.
He was born on 15th April 1966 so he is currently 55 years. Freeing him before his retirement age may enable him enter into some lawful ventures before he turns 60 even if Ghana Health Service will not reinstate him.
He had served this nation for years as a medical practitioner and having served some years in prison for the offence, he should be assessed and if found to be a transformed person, then grant him the prerogative of mercy either free or subject to lawful conditions as the 1992 Constitution states in Article 72.
In 2022, he would have served the minimum seven (7) year term for persons who defile minors as stated in Section 101 (2) of the Criminal Code, 1960 (Act 29). If you pardon him in 2023 subject to his good conduct and transformation in prison, then that will be a justified grounded in view of the fact that he has served one-third (8 years) of the 25 prison term. Mr. President, even if he serves the full term of 25 years or not, it will not erase the effects of his offence on the victim.
He is currently a tutor on the Distance Learning Programme the University of Cape Coast (UCC) is organising for long term prisoners who qualify to be awarded diploma certificates. So far, a significant number of the inmates graduated from the programme under the tutelage of Dr. Sulley Ali Gabass.
Mr. President, in his inaugural lecture to the Ghana Academy of Arts and Sciences on 15th March 2017 on the topic "The Philosophy of Man", the late Justice V.C.R.A.C. Crabbe stated, "There are only two classes who never make a mistake. Those who have as yet not been born, and those who are dead. Errare humanum est. –To err is human. To forgive is divine..." In tandem with these words of wisdom from the legal luminary of blessed memory, I Implore your prerogative of mercy for Dr. Sulley Ali Gabass. On behalf of Dr. Gabass, I offer the Serenity Prayer, which goes,
| | |
| --- | --- |
| God, give me grace to accept with serenity the things that cannot be changed, Courage to change the things which should be changed, and the Wisdom to distinguish the one from the other. | Living one day at a time, Enjoying one moment at a time, Accepting hardship as a pathway to peace, Taking, as Jesus did, This sinful world as it is, Not as I would have it, Trusting that You will make all things right, If I surrender to Your will, So that I may be reasonably happy in this life, And supremely happy with You forever in the next. Amen!!! |
~Asante Sana ~
Author: Philip Afeti Korto.
Email: [email protected]