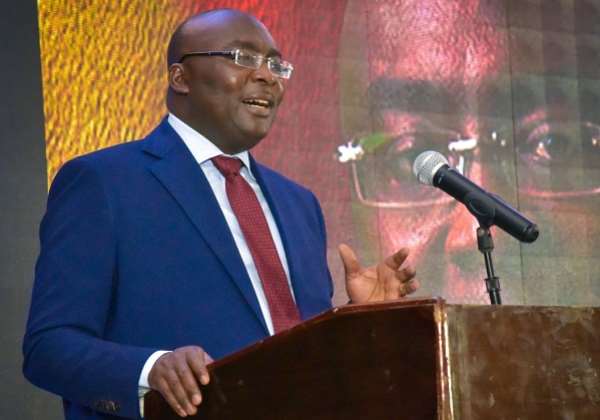 He giggles as he delivers his thought-provoking salvos. It is always contagious as he delivers his point without insults. He continuous to tickle and get on the nerves of the opposition NDC unknowingly. One advantage he has over his political enemies is that he doesn't respond to insults. He just sets the record straight.
In the run-up to the 2016, the communicators of the NDC had the funny feeling that if they run down Dr. Mahamudu Bawumia, it will be like cutting off the head of a snake; the remaining is nothing but a rope. From 2008 to 2016, these upstarts lambasted Akufo-Addo to the brim, and when they saw that the guy had the skin of a crocodile, they turned on the heat on Dr. Bawumia. The economic whiz-kid turned out to be tougher than nut.
A few days before the launch of the NPP manifesto, Dr. Bawumia had flown a kite, enumerating many campaign promises that the Akufo-Addo administration had kept and will continue to do more to assuage the suffering of Ghanaians. With that teaser, Ghanaians foresaw what was awaiting them on the D-Day of the real launch. Ever since Dr. Bawumia came into Ghanaian political scene, he has become like the most beautiful girl in town. Whereas majority of Ghanaians love to listen to him anytime he is on his night flight to Venus, a few political enemies who are dying of envy hate to hear anything about Bawumia.
Dr. Kwame Nkrumah and Prof. Busia did not have a vice-president because whereas Dr. Nkrumah operated under a one-party regime, Prof. Busiah's regime was the Westminster type which did not give room for a vice-president. One can, therefore, not have any vice-president in those two regimes to compare to Dr. Bawumia. Dr. Joe de Graft-Johnson was the vice-president to Dr. Hilla Limann, but due to the very short tenure of office, Ghanaians could not make the best out of the fine Fante gentleman. Dr. de Graft-Johnson (Joe Diggi) was so nice a gentleman that not a single Ghanaian had any cause whatsoever to take him on. He was the quiet type and would not hurt a fly.
Enter Ekow Nkensen Arkaah, another principled Fante gentleman. In his case, he found himself among wolves and when he got to realise rather too late that his principles could not be in bed with the revolutionaries, he found himself standing alone and far away from those he was supposed to work with. When the pushing came to shoving, he found himself at the mercy of ex-President Rawlings, who gave him hefty blows and dragged him out of a Cabinet meeting with bruised bodies and a torn coat.
The late Professor Mills who later replaced him learnt his lessons well and moved along with his boss quietly. He survived because he knew very well what will happen to him if he became 'too known'. When Mr. Mahama partnered Mills, everybody knew he will have his own way because his boss, the 'Asomdwehene', was a man of peace. That was how Mr. Mahama seized the opportunity to milk the state cow dry and later had the bravery to tell us in our lean faces that the whole meat has been eaten, leaving only the bones.
Alhaji Aliu Mahama was a typical Dagomba man. Soft, wise, hard but unassuming. For the eight years that he partnered the Gentle Giant, Mr. Kufuor, Ghanaians never heard anything bad against the two gentlemen. For the many times that Kufuor junketed the globe in search of investment, the fine and gentle Alhaji held the fort firmly till his boss returned. His watchword was discipline, and he made sure Ghanaians understood him in that line.
Paa Kwesi Amissah-Arthur, who came along with John Mahama, was exactly like the late Prof. Mills; soft and mild despite his academic laurels. Again, Mr. Mahama had a fine opportunity to roll out the remaining of his corrupt bargain. He had become so perfect in the act that Amissah-Arthur became literally a spectator on the corruption field.
It was not for nothing that Akufo-Addo relied on Dr. Bawumia on three occasions till the NPP won the election in 2016. No general will ever replace a captain who fires from all cylinders. That will be suicidal and defeatist. Nobody can convince me that Bawumia is lucky because the world is 'going computer'. The late Amissah-Arthur and Mr. Mahama fall under similar category, but they did not seize the opportunity. Instead of using a tracking system to locate projects undertaken by their regime, they chose to use a 'Green Book' which displayed phantom projects with artist impression to match. Today, by the grace of Bawumia and his team, I can sit in the comfort of my room and locate a project in my constituency.
Dr. Bawumia believes in going digital since the world cannot wait for Ghana to come along, but that too is what the NDC does not want. The NDC wants a situation where they can easily lie to the village folks through their so-called 'Green Book'. When the Circle Interchange was being built, the NDC spent millions of cedis mounting huge billboards all the way from Accra to Paga to show Ghanaians what they were doing. It is very unfortunate that the NDC still lives in the dark ages where politicians can easily promise villages to build bridges where there are no rivers.
I believe John Mahama and his team of yesterday's men and women would learn from Bawumia and his team so that the eyes of their supporters will be opened to make them make the right choice. Just look at the way Mr. Mahama disgraced himself in the Volta Region recently when he saw a lot of 'okada' riders leading his convoy. The guy was so desperate for power that he told his gullible listeners to vote for him so that he will come back to legalise 'okada'. Habba, Papa Mahama!!!
From Eric Bawah