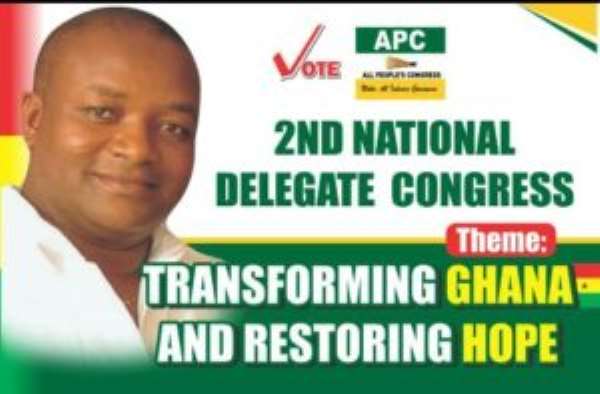 The All People's Congress (APC) on Monday, August 24, 2020 acclaimed it's National Executives and Presidential Candidate for 2020 polls at the Under- Bridge Event Center, East Legon.
The 2nd National Delegates Congress of the party was graced by representatives of other political parties, Civil Society Organizations and the Electoral Commission of Ghana.
The Presidential Candidate of the party Dr. Hassan Ayariga urged the party executives to campaign vigorously for the party in the quest to end the reign of the NPP and NDC in the December 7, 2020 elections. Dr. Hassan Ayariga also promised to implement Free Tertiary Education, unemployment benefits and Universal Basic Income for Ghanaians when voted into power.
"This election is not about NDC or NPP. This election is about restoring hope, transparency, transformation, accountable leadership and confidence. This election is about hope for the youth, hope for the elderly to get support, hope for the disabled people, hope for the many unemployed people, hope for the widows, hope that our children will get jobs after graduating, hope for teachers and nurses, hope for you and I, hope of restoring the broken link between government and the people and hope that our country will be in the hands of committed and incorruptible leadership.
"My vision for Ghana is that of an optimistic, self-confident and a prosperous nation with a strong and thriving a democratic society in which mutual trust and economic opportunities exist for all irrespective of their background". He said.
"An elected APC Government will place people at its centre by making people indeed matter; their hopes and concerns must drive its policies and priorities. Hassan Ayariga cannot offer you the world, I cannot solve every problem in your life, but what I can promise you is a Ghana that works and gives each and every one of us, the opportunity to improve or better our lives."I can promise you a Ghana that works for you and your family, not just for the rich and powerful.", Dr. Hassan Ayariga added.
Find below the list of the cclaimed National Executives of the All People's Congress (APC)
Dr Hassan Ayariga
Chairman
Paul Cossie
Deputy Chairman
Mordecai Thiombiano
General Secretary
Ben Anderson
National Organizer
Douglas Akonotey
Deputy Organizer
Alhassan Shaebu Abu
Youth Organizer
David Dudor
Deputy Youth Organizer
Bliss Atsufui Sosu Honu
Women Organizer
Abdul Aziz Nasara
Deputy Women Organizer
Gloria Bannet
Treasurer
Rita Dugah
Deputy Treasurer
Francis Ansah Tawiah
National Communications Officer
Donald Brown Hamza Dzameshie
Deputy Communications Officer