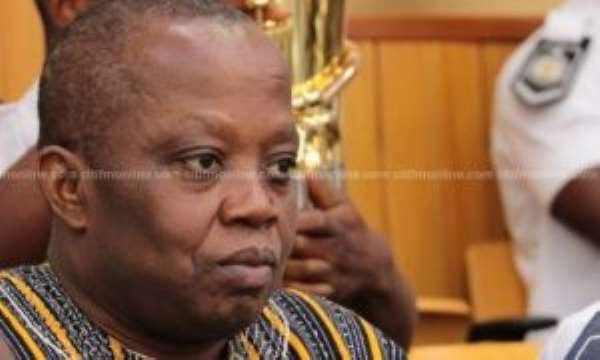 Auditor-General (Daniel Domelovo)
If my research is correct, then a worker in Ghana is entitled to fifteen working days fully paid annual leave, after completion of twelve months of continuous service according to the Ghana Labour Law on "Annual Leave and Holidays". How come that some workers in high positions in the civil service are able to accumulate their paid annual leave for years on end only to be heard often to be ordered to proceed on compulsory leave? This proceed on leave in Ghana is synonymous with getting a sack, many people claim.
In the United Kingdom, no reputable company will permit its employee to accumulate the entirety of his/her two years annual paid holiday leave let alone, their three to four years' or more as it seldom happens in Ghana of which Auditor-General Daniel Yaw Domelevo's is a perfect example. Even some companies do not allow their workers to proceed on leave for their entire twenty or twenty-eight earned paid annual holiday leave at one go. Some of them allow for taking fourteen days at a time or whoever wants to take more than that or all at a go, must submit an application to their employer giving reasons for their action.
From the above, there is no way that one will be allowed to accumulate their paid holidays for three or more consecutive years without even making any attempt to ever go on holiday. In the UK and other civilized countries, one will lose their holiday if one does not take them within the earned year, as it's either a calendar year (1 January to 31 December) or a fiscal year (1 April to 31 March). It is just in exceptional cases that a company, not many at all, will allow a worker to defer his/her accrued paid holiday into the next year's in what is accumulation. However, it could not be more than a year and a half or two. No, no and no!
Why is paid annual holiday granted to employees by their employers in accordance with the nation's employment statutory regulations? Is it to recompense the employees for their hard work? Is it to give them some deserved comfortable rest after many months of continuous hard work? Is it to help employees get some rest based on health and safety requirements? There must be a reason behind the giving of paid annual holiday leave to workers. We need to find out that reason.
Why is it that some people decide not to take their accrued annual paid holiday leave contrary to Sections 20 (1) and 31 of the Ghana Labour Act, 2003 (Act 651)? For the sake of the public readers, I am quoting the Sections below.
Leave entitlement
20. (1) In any undertaking every worker is entitled to not less than fifteen working days leave with full pay in any calendar year of continuous service.
(2) The expression "full pay" means the worker's normal remuneration, without overtime payment, including the cash equivalent of any remuneration in kind.
Agreement to forgo leave to be void
31. Any agreement to relinquish the entitlement to annual leave or to forgo such leave is void.
I shall entreat all interested Ghanaians to read the cited Labour Law by referring to the underlying web link.
https://www.ilo.org/legacy/english/inwork/cb-policy-guide/ghanalabouract2003section109.pdf
Section 31 makes it obligatory for all workers to go on annual paid holiday. Therefore, the hullabaloo about the President Nana Akufo-Addo asking Mr Daniel Domelevo to proceed on his accumulated leave, does not make any sense at all. There are people, including PhD holders in various disciplines condemning the president's action. There are some people trying their hardest to give tribal colour to the president's action. There is no wonder that most black people, especially Ghanaians, are simply educated-illiterates. Do they mean well for Ghana? No!
Where is the tribalism in this case? Why are some NDC people from the Volta region saying that the president is attacking the Voltarians? Why are some people so ignorant and dirty only to see any innovations through their opaque political lenses? Could the so-called legal luminaries explain Section 31 of the Ghana Labour Law as quoted above for me?
Finally, do we understand the word precedent as applied in law? Precedent is "a legal decision or form of proceeding serving as an authoritative rule or pattern in future similar or analogous cases" or "an example or instance used to justify later similar occurrences"
In His Excellency Nana Addo Dankwa Akufo-Addo's letter directing the Auditor-General Daniel Domelevo to proceed on his accumulated annual paid holiday leave, he said, "It will be recalled that, on 9th April, 2009, the 3rd President of the 4th Republic, His Excellency the late Prof. John Evans Atta Mills, directed the then Auditor-General, Mr. Edward Dua Agyeman, to take his accumulated annual leave of approximately two hundred and sixty-four (264) working days"
Did we see legal luminaries and tribal bigots reacting negatively to it as they are doing today to that of President Nana Akufo-Addo's in relation to Mr Domelevo? How I hope Ghanaians could be a bit more level-headed when it comes to such occasions where fairness is demanded.
The president's order is grounded in law but not for any dubious reasons as it is the view of some educated-illiterates and tribalists seeking to score cheap political points or favours.
As usual, I have printed a copy of the quoted Labour Law Act which comes to fifty-eight pages. I always love to arm myself to the teeth with proofs so that I cannot be easily faulted by the enemies. If it were not so, I could not be confidently writing copiously about the ongoing Kumawu chieftaincy dispute to the bewilderment of the Asanteman overlords.
Rockson Adofo
Wednesday, 01 July 2020