I Was About to Come After You, Nana Akomea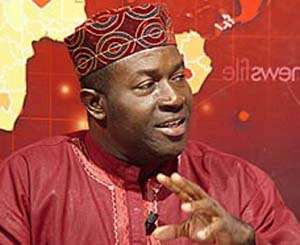 When I first read the news headline, "You Don't Match Pius to Debate Felix on Radio or TV – Nana Akomea Slams NPP," I was not the least bit amused, knowing fully well that Mr. Felix Ofosu-Kwakye or Kwakye-Ofosu, the former Mahama-appointed Deputy Communications Minister and hireling, even as I write, was a young man who was full of bluster and decidedly devoid of substance. I therefore kept this news story on file, with the intention of hitting back and "savagely" at the former New Patriotic Party's Communications Director.
You see, Dear Reader, I have still not forgiven the former John Agyekum-Kufuor cabinet appointee, ever since Nana Akomea and the now-Mrs. Ursula Owusu-Ekuful joined a National Democratic Congress-sponsored cynical and propagandistic protest march against Mr. Yaw Osafo-Maafo, the fired Kufuor cabinet appointee, on grounds that Mr. Osafo-Maafo, had made an invidious remark suggesting that the country's ethnic minorities, who dominated the then-ruling National Democratic Congress (NDC), hailed from areas of the country that produced little wealth, and yet these ethnic minority politicians were voraciously cannibalizing and devouring the southern-located wealth of the country at the expense of country's Akan ethnic majority.
The remark, which was made at a party confab in Koforidua, in Mr. Osafo-Maafo's home turf of the Eastern Region, was supposed to be in-kept or confidential. Personally, I found Mr. Osafo-Maafo's remark to be stunningly inadvisable, especially coming from a very senior member of the New Patriotic Party. But I also found the decision by Nana Akomea and Mrs. Owusu-Ekuful to join dubious cause with the operatives of the then-ruling National Democratic Congress to be insufferably offensive and inexcusably vacuous and self-defeating, because the sham protest march was clearly geared towards scoring cheap political points, and not necessarily because the remark that had been attributed to Mr. Osafo-Maafo and which, by the way, many Akan-descended Ghanaian citizens also believed to be true, was offensive, politically inexcusable and strategically divisive.
That it was just a few months before the 2016 General Election, if memory serves yours truly accurately, made the scandalous decision by Nana Akomea and Mrs. Owusu-Ekuful all the more disturbing. I also vividly recall telling the host of a Kasapa-FM current affairs program that the entire decision by the duo to join the NDC-sponsored march eerily seemed if as the palms of the pair had been generously greased by some key operatives of the National Democratic Congress, or they were simply too cheap and emotionally disturbed to fully appreciate the deleterious import of their decision and action. Such decision was simply too weak-minded and bizarre to accept. In the short term, participating in the virulently anti-Osafo-Maafo NDC-sponsored protest demonstration may very well have cost the Akufo-Addo-led New Patriotic Party some crucial votes. Fortunately, some of us diehard volunteer patriots were able to promptly step up to the plate, as it were, and do some well-needed damage control, and thus be able to save the most visionary and progressive political establishment in the country from an otherwise catastrophic and irreparable electoral massacre.
In view of the preceding, I was not the least bit surprised that Nana Akomea would be denied a cabinet portfolio in the Akufo-Addo government. There was clearly a trust issue at stake here. Which, of course, is not necessarily to imply that either Nana Akomea or any key operative of the New Patriotic Party was, somehow, inalienably entitled to being afforded a cabinet appointment or portfolio. The offer of a cabinet portfolio or any other executive portfolio, for that matter, is decidedly a privilege doled out at the pleasure of the President-Elect, as it were, and not in anyway an inalienable political entitlement. Somehow, though, I feel that Mrs. Owusu-Ekuful ought not to have been granted a cabinet portfolio, for the reasons of the same grievance that I have or had against her partner in political self-stabbing or incrimination, although I must also confess that the Communications Minister, since being offered the post, has acquitted herself quite creditably so far and may very well be one of the most hardworking Akufo-Addo cabinet appointees.
I was also amused to hear the other day that Nana Akomea, the one whose Facebook post was inadvertently attributed to Nana Akomea, the well-known politician, presumably also a staunch member, supporter or sympathizer of the ruling New Patriotic Party, was claiming that Mr. Felix Ofosu-Kwakye, the presumably Okwawu-fathered Mahama goon, was a "smart" and "verbose" NDC communications heavyweight who was too astute and eloquent for Mr. Pius Hadzide, the Deputy Information Minister, to take on in a debate on the Muammar Khadafy-inspired Mahama Green Book (See "Retraction and Apology to MD of STC Nana Akomea" Ghanaweb.com 6/14/20). "Verbose," definitely, but "Smart"?! Which vividly recalls for me an interview whose report I read not many years ago, in which the spacy British-trained communications specialist and Mahama employee had the temerity to assert that "technocrats" were peripheral to the effective administration of the Mahama government and the country; and that, according to Mr. Ofosu-Kwakye, it was rather political appointees like himself who were the real experts and engineers of government.
Well, I sincerely don't see how any intellectually acute adult-Ghanaian citizen would rank a hopelessly incompetent braggadocio like Mr. Ofosu-Kwakye over and above a remarkably formidable mind like Mr. Pius Hadzide. Then, again, who said we are not, each and every one of us, entitled to our own inalienable opinions vis-à-vis which of our politicians are "Smart" or "Verbose" or both?
*Visit my blog at: KwameOkoampaAhoofeJr
By Kwame Okoampa-Ahoofe, Jr., PhD
English Department, SUNY-Nassau
Garden City, New York
June 18, 2020
E-mail: [email protected]