Shatta Wale Makes Peace With Masaany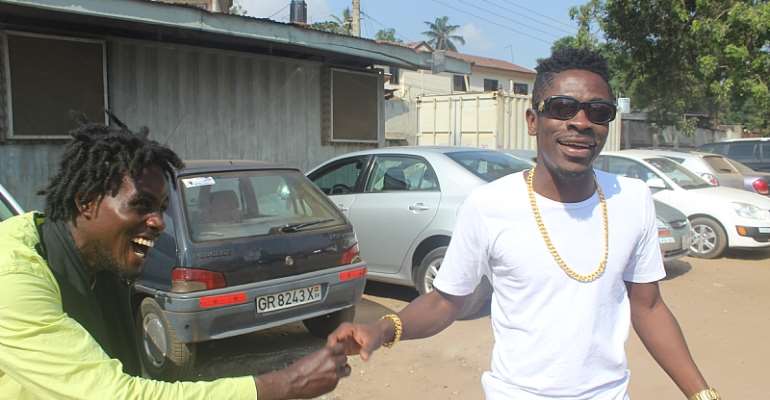 During the beginning of the year, Dancehall new entrant, Masaany, released a video that chatised and condemned Shatta Wale.
The "Dancehall King", didn't find it funny that Masaany, who taunts himself as the "Dancehall Messiah", had asked him to act maturely and "pave the way for him". This provoked a series of backlash, from both SM4Lyf fans and Shatta Wale, on social Media.
The backlash soon resulted into lyrical shots, as Shatta Wale released a diss song, titled "Dancehall Messiah" in an attempt to take Masaany's title.
This beef had credible news source, describing Masaany as "The man who made Shatta Wale Panic"
A week ago at the premises of EIB network's, Starr Fm, the dancehall Messiah bumped into Shatta Wale. Both men had been there to sign their contracts for the Sconcert. Instead of tempers risings, both dancehall playmakers laughed and share jokes.
This is reflective of the unity Masaany had advocated for Dancehall a few months ago. First it was Stonebwoy, then Masaany, will it be Samini Next?
IMG 8067