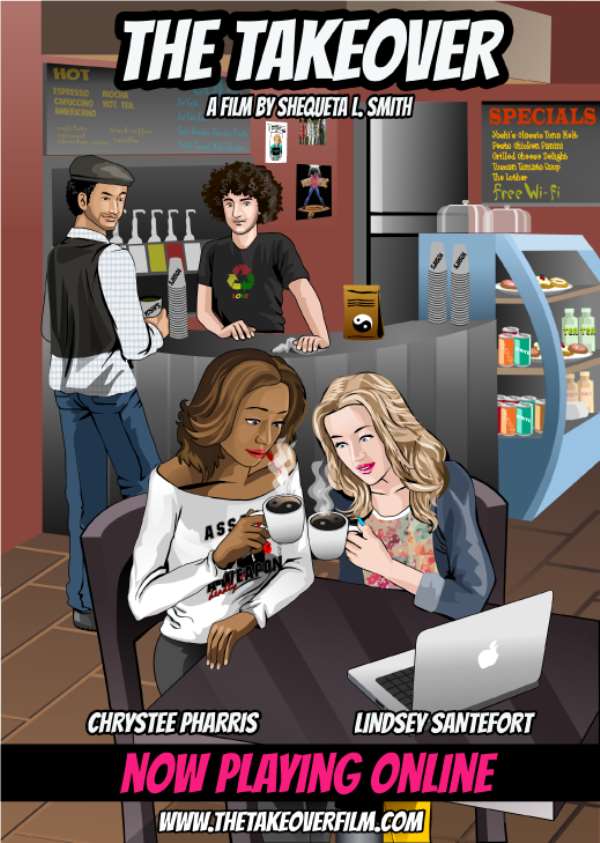 HOLLYWOOD, CA - After spending the past several years in Hollywood, working on shows like the CW's "Everybody Hates Chris," VH1's "The Surreal Life" and "Flavor of Love," North Carolina native, Shequeta Smith, gets one step closer to conquering Hollywood with her clever new short film, "The Takeover." The Takeover puts a new spin on the body swap genre of film by swapping the bodies of two best friends of different races.
The movie begins with the two main characters, Tisha and Ashley, discussing the difficulties of dating. Each of them seems to think that the other has it easier. Their nosy but well-meaning barista, Yoshi, overhears their conversation and serves them an espresso that not only tingles their taste buds but ultimately causes them to swap bodies.
"Not sure what's been happening these past few weeks but men, specifically black men, have been flocking to this film. Initially, I didn't think they were gonna like it but they've been writing me about how the film has opened their eyes to what's happening to black women when it comes to dating," says Smith.
Fueled by positive word of mouth from viewers on Facebook and Twitter, the film has received over twenty five thousand hits between YouTube and Vimeo with eighty percent male viewership. Smith and members of her cast have been special guests on numerous talk radio stations across America. In addition to this, the film was recently selected into the upcoming "Sista's Are Doin' It For Themselves" film festival in Hollywood.
In between doing publicity for "The Takeover," Smith is prepping her first feature film, "Rock the Mic;" a music/dance themed movie that she plans to shoot in North Carolina. Smith currently has Teyana Taylor (Madea's Happy Family, Stomp the Yard) and Romeo Miller (Jumping the Broom, Honey) attached to star.
For Updates, Friend us on Facebook: http://www.facebook.com/takeovermovie
Visit Our Official Page Here: http://www.thetakeoverfilm.com
Follow Us On Twitter: http://twitter.com/RayvenChoi