AGYA KOO GUNS FOR THE DOUBLE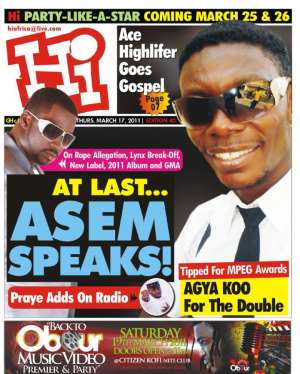 After winning the most important slot at the 2010 Ghana Movie Awards (M.A.G.), Agya Koo is highly tipped to grab the MPEG-ultimate, at ease.
Of the four major industry awards on the local entertainment calendar (including the promising latest, MPEG); players in the movie industry can at most grab two chances at honours each year; however having already won the overall Best Actor at the December 25, 2010 Ghana Movie Awards, Adu Kofi a.k.a Agya Koo is set to pick his double, as per reliable insider info gathered by yours truly.
According to a source close to the organizers, Agya Koo is leading the SMS votes among the 10 finalists; and all things being equal would pick the Most Popular Entertainer of Ghana (MPEG) tomorrow at the National Theatre. "I wouldn't be surprised to receive this news as I'm very expectant", Agya Koo, who was on set Friday (March 18) Morning, told Hi Newspaper.
MPEG is a cross-discipline honours event established to ensure that professionals in the various fields of music, film acting, television acting, theatre, football, boxing, comedy, radio and television broadcasting are commended for their services to the people of Ghana every year.
On Saturday March 19, 2011 at the National Theatre in Accra at exactly 8pm, one of the ten, selected from honourees in various categories chosen by the MPEG College, would emerge as the winner of MPEG. The general public have been voting for the Most Popular Entertainer of Ghana (MPEG) since February.
The 10 honorees are: Asamoah Gyan (Most Entertaining Football Personality), Joseph Agbeko (Most Entertaining Boxing Personality), Kofi Adu (Agya Koo) (Most Entertaining Film Acting Personality), Andrew Adote (Most Entertaining Stage Acting Personality), Funny Face (Most Entertaining Comedy Personality) and Amakye Dede (Most Entertaining Music Personality).
The rest are Nana Aba Anamoah (Most Entertaining TV Broadcast Personality), Fiifi Banson (Most Entertaining Radio Broadcast Personality, Accra), Kwame Adinkra (Most Entertaining Radio Broadcast Personality, Kumasi) and Nana Otu Gyandoh (Most Entertaining Radio Broadcast Personality, Takoradi). At the time of going to press, Hi Confidential had gathered that the race was a three-horse one; comprising Funny Face, Asamoah Gyan and the hottest fave, Agya Koo.
By late Wednesday, organizers FDD Communications Consult hinted Hi Newspaper that Joyful Way Inc. had dropped out of the star-studded list of performers announced earlier, which include Okyeame Kwame, Bertha, Kwabena Kwabena, Kofi B, Rough, Smooth, Della Hayes and her all-girls jazz group, Dzesi.
At Koala, Joy FM and Silverbird Cinemas, our info says tickets are running fast at GH30 (regular) and GHC50 (VIP), perhaps for three reasons, including the fact that the show would be hosted by an upbeat rookie Kwame Asare Obeng a.k.a A-Plus, the controversial musician/comedian/actor/social commentator.
According to the organizers led by Journalist and showbiz critics, Francis Doku, "We've looked hard for that consummate entertainer who encompasses all or most of the disciplines to be honoured at the event, to host the show. Only a few people fit the bill as A-Plus does hence the decision to appoint him".
So far, Agya Koo and Funny Face are leading the pack, followed by Asamoah Gyan, our reliable insider source hints; [of course] FDD wouldn't offer a comment on this, but would encourage the general public to vote more: "It is not too late as the public is still encouraged to vote for their favourite among the 10, to be crowned on Saturday as the Most Popular Entertainer of Ghana by adding GH to the name of the favourite and sending to short code 1736 across all networks or voting at www.mpeghonours.com"
MPEG is produced by FDD Communications Consult and sponsored by This Way Chocolate Drink, DStv, DStv Mobile, Carolans Irish Cream with support from Big Ideaz Consult and Chilloutghana.com. Media partners include Peace FM, Okay FM, Hello FM, Joy FM, Adom FM, Nhyira FM, Luv FM Asempa FM, Angel FM, KFM, Melody FM, Kyzz FM, Skyy Power FM, Happy FM, YFM, Anigye FM, Boss FM, Homebase Channel and e.tv Ghana.