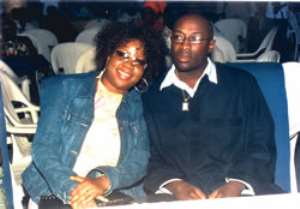 Recently, LIFE &BEAT ran into Adewale Ayuba, one of Nigeria's leading fuji artistes well known for their clean lyrics, electrifying dance steps, and dandy dress sense.

As always, the honorary doctor of music had something to say about other fuji musicians and their penchant for abusive songs and legendary lust for titles.

Ayuba pointed out that he refused to join the league of abusive singers and title chasers because he believed that the mad rush for titles would not yield anything useful to the fuji music genre.

He said, "They want to be king of this and king of that, Otunba this and that. But this is not adding value to fuji music. One would have expected them to promote fuji at international music festivals and concerts, but they are busy chasing local titles, rubbishing one another to the detriment of the music, which some of us are struggling to save from untimely death."

When the conversation shifted to his family, Ayuba proudly announced that, even as a Muslim, he is still married to only one woman and has been blessed with six children, five of whom are university graduates.

He said, "My wife's name is Azukaego Kwentoh. She is an Igbo woman. I met her in 1985 and we got married in 1989."

Evidently, the Bonsue Fuji exponent has not been found wanting on the home front. For example, his eldest son, Ahmed, is a medical doctor in the USA. The young man is aged 28. Ahmed's younger sibling, a lady, is one of the selected computer graphic artistes that designed the 2012 Olympic Games mascot.

Ayuba said that selfishness led some men, under the guise of being Muslims, to marry more than one wife.

He said, "I am a proud Muslim. I've been to the holy pilgrimage almost every year. My father was a prominent Islamic scholar from Ikenne-Remo in Ogun State.

"I can never marry a second wife. I have searched everywhere in the Holy Koran, I have not seen where it is written that a Muslim must marry more than one wife. Some people are merely twisting the scripture to satisfy their selfish desires by acquiring women and siring many children, whom, in most cases, they cannot cater for morally, educationally and financially."
Click the link below to go to...
BREAKING NEWS: Funke Akindele Secretly Weds Almaroof [PICTURES]
EXCLUSIVE: Funke Akindele's Fiance, Almaroof Wedding Picture With Wife
Funke Akindele's Hubby Revealed**Becomes Second Wife
FUNKE AKINDELE'S WEDDING PLAN TO OSHODI BIG BOY, ALMAROOF THREATENED
Funke Akindele Splashes N25m On Wedding
CELEBRITY QUOTE: I have found true love -Funke Akindele
More Pictures From Funke Akindele's Nikkai On Thursday
Why Funke Akindele Secretly Performed Wedding Ceremony With Almaroof**Get 'Khadijat' As Islamic Name.jpg