HURRAY: PRESIDENT JONATHAN PRESENTS NIGERIANS CASSAVA BREAD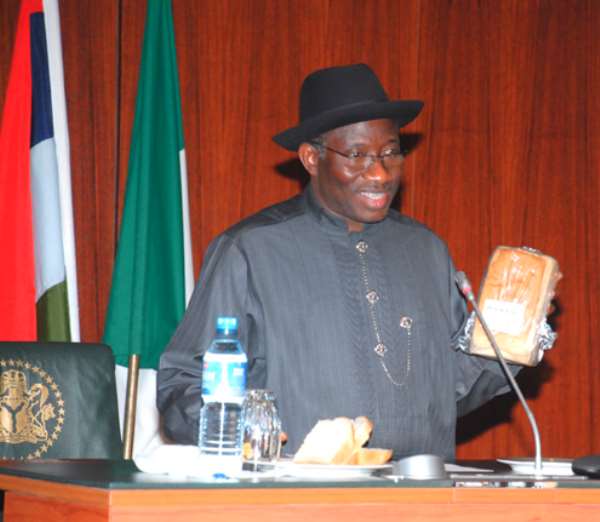 President Goodluck Jonathan on Wednesday 30th,2011 in Abuja formally presented to Nigerians a loaf of bread made from 40 per cent cassava flour, with a promise that he would continue to consume the brand until he leaves office as president.
Jonathan, who presented the bread shortly before the commencement of the weekly Federal Executive Council (FEC) meeting at the Council Chamber of the Presidential Villa, said he had been eating the variety for a week now.
He said, "I feel it is only proper for us in Council to formally present this bread to Nigerians. I have been eating this bread for the past one week and I will continue to eat only this bread until I leave State House.
"We must encourage what we have. Other countries that became great did not wake up one day and become great.
"For us to move forward, we must also tame our exotic taste. Some of the things we bring from outside are not as good as what we have within our country. I believe that with this, so many of those who produce wheat products will begin to use different percentages of cassava flour.''
The president said government would introduce policies aimed at encouraging producers to use cassava flour to produce bread.
Mr.President you've made your point,but we need a more permanent solution to our enormous and terrifying problems.