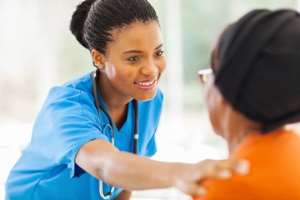 To better manage the disease, reduce the risk of secondary infection, and improve the overall quality of our healthcare system, Clinical Executive at medical scheme Profmed Justine Lacy believes home-based care is going to play a big role in the future of healthcare.
Opting for care or treatment at home rather than in a facility most certainly has its advantages. As a scheme, we have seen first-hand the benefits of home-based care and believe that this may be more beneficial for many patients, provided the care, treatment and recovery can be safely implemented at home," says Lacy.
Home-based care is defined as the provision of health services in the home, by healthcare practitioners and caregivers. Home-based care aims to promote, restore and maintain a patient's maximum level of comfort, function, and health. In the case of someone who has been given a terminal diagnosis, dignified care at home, where the environment is familiar, quiet and calm can bring a great deal of comfort to the patient and their loved ones.
Profmed has embarked on an intense care support programme, targeting older members in hospital. The programme aims to facilitate early discharge, where possible, so that they may continue their care and recovery at home. This aids a faster recovery as it reduces exposure to hospital-related injury and infection, as well as promotes orientation to time, place and person by allowing the patient to begin a routine, keep busy with manageable tasks and have those things that are familiar around them as they recover, such as family, pets, books, favourite foods and the outdoors. Lacy says that together with this initiative, Profmed's home-based ventilation programme has also been implemented The scheme offers the option of home ventilation for appropriate members which then allows for early integration back into the home environment, facilitated by a qualified nurse. This means that this type of member would no longer require the often traumatic and protracted hospitalisation that patients with chronic conditions often have to endure.
"The longer the hospitalisation the greater the risk of contracting a secondary infection or injury," says Lacy. Home-based care offers an alternative to hospital care, as long as it is safe to do so and the member and provider consent.
Lacy says home-based care doesn't only reduce unnecessary hospitalisation but also drives down the possibility of readmission in a patient who previously received treatment in a facility. The risks are reduced, provided the home care is rendered safely and efficiently.
"We have certainly seen great support for home-based care across the healthcare industry. The pandemic has brought to the fore, both the necessity and the efficacy of home-based care.
She says home-based care and disease risk management are also interrelated, which is why schemes like Profmed are working on refining processes that facilitate regular monitoring of high-risk members receiving care at home, as well as the more complex cases that place members at risk of non-compliance, bedsores and hypostatic pneumonia. The advancement in digital technology allows for remote monitoring in the home, as well as virtual consultations with providers. A wide range of care can be accommodated in the home for both medical patients and that post-surgery. For instance, the administration of oxygen and intravenous drugs, the taking of blood samples, wound care, home ventilation and other basic nursing care.
Lacy says that most schemes have some form of home-based care benefits available to members. She advises members to speak to their medical scheme to understand the care options and the benefits offered. "It is in all medical scheme's interests to offer home-based care as an option for members, keeping in mind that the ultimate decision lies with the member and their doctor. "
Lacy says home-based care, if appropriate is a trusted solution for keeping loved ones safe, happy, and comfortable, especially as they grow older. "Although it is beneficial for everyone, we must keep in mind the quality of life that care in the home will provide the elderly. These are the patients in most need of a safe, comfortable and nurturing environment as they live out their golden years."
As the practice becomes more established, Lacy believes home-based care is the future of healthcare. It is cost-effective and it just makes sense.