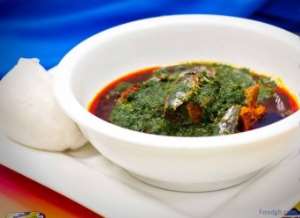 Tuozaafi, Photo credit -FoodGH
Fufu (Fufuo)
Fufu is a popular and common food in West and Central Africa which is made in slightly differently ways in different countries.
In Ghana It is often made with cassava and unripe plantain. It is pounded in a wooden mortar and water is gradually added till it becomes soft and sticky. It is often eaten with light, palm nut and ground nut soup.
Banku
Banku is a Ghanaian dish prepared with fermented corn and cassava dough made into a smooth paste and moulded in round shape when prepared. Banku can be served with soup, okro stew, soups and hot pepper sauce with fish or meat. It is preferred food by the people of Ga, Fanti and Ewe tribes of Ghana but is a popular meal across Ghana.
Omu tuo (Rice balls)
Omu tuo is prepared with rice cooked with a lot of water and moulded into balls. It is usually served with palm nut or groundnut soup. It is is the preferred meals on Sundays after church.
Kokonte
Konkonte is a Ghanaian dish prepared from dried and pounded Cassava and has a brown colour after preparation. It is often enjoyed with ground nut soup and palm nut soup. It is a popular meal with many other names like as abitie, lapiiwa, and Face the Wall.
Tuo Zaafi
Tuo Zaafi is a popular main dish of the people of Ghana's three northern regions: Northern Region, Upper East Region, Upper West Region. it is prepared with millet dough which is indigenous to Ghana's north. It is often eaten with green vegetable soup made from bitter leaves and stew and meat or fish.