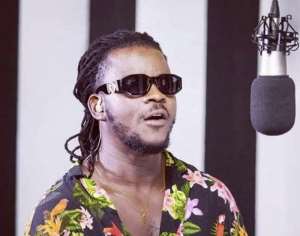 Michael Okine, better known in showbiz as Jupitar, a Ghanaian reggae-dancehall singer, has stated that he will no longer stress himself about winning awards in Ghana.
According to the dancehall crooner, the Ghanaian music industry has not recognized his craft to the point of refusing to nominate his big track 'Enemies,' in which he featured Sarkodie.
Jupitar emphasized that after that disappointment, he advised himself to focus on the outside world, where he receives so much love, attention and nominations.
"Honestly, I can fearlessly say that because even my big song wasn't nominated [for award]. Ever since, I said to myself 'I won't stress myself too much when it comes to awards in Ghana', because it's quite strange.
"Out there rather they give me nominations and they reward me. They acknowledge me so beautifully and so nice," he stated.
Speaking on the Accra-based 'Between the Hours' Show on Wednesday, June 22, 2022, Jupitar further revealed that Ghanaian industry players, especially the DJs, are so obsessed with foreign songs.
He added that the same DJs demands to have a relationship with their own Ghanaian artistes before they can push their songs.
According to Jupitar, he is not even close to many of them (the industry players) but they make outrageous demands.
"Honestly, I'm not too familiar with most of these industry players and I'm not too cool with them, and I hardly even go for interviews and stuffs because I just feel some of them don't just enhance me and put me on the level I wanna be on. It even looks more like you are rather begging for attention.
"We shouldn't be friends before you take my work to the next stage. Then you are not being fair and such things even push away many talents that are capable of doing many things that will actually push Ghana to the top," Jupitar emphasised.