Accra Indie Filmfest (AiF) Selects 55 Films To Represent At The 2020 Edition Of The Festival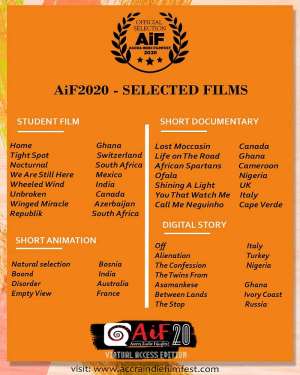 Accra Indie Filmfest has officially released the final 55 films for the 2020 edition of the festival. The management believes the selection process was one of the toughest moments for the 2nd edition of Accra Indie Filmfest (AiF). However, the road is now clear for 55 selected short films from 34 countries to battle it out for the various categories at the festival.
According to the management, Submissions for this year's edition of the festival was opened on 25th January and by close of the submissions on April 15th 2020, the festival have had a massive hit of over 4000 submitted short films across 131 countries.
This made the judging process quite a tough drill. The first-level jury of 20 filmmakers and film enthusiasts was created to trim the numbers down to about 300 for the main nine-member jury representing 6 countries to take over. The main jury also battled it for over a month and finally, the battle ended with a whopping selection of 55 short films to represent at this year's edition of the festival.
From selected filmmakers' excitement, it is obvious that the world was surely looking forward to meeting at the capital city of Ghana, Accra but for coronavirus, it has become a necessity to search for the next alternative by going virtual.
The festival has now migrated online and to be part of this amazing experience of watching about 55 mind-blowing short films from 34 countries at the comfort of your home for FREE, then all you need to do is to subscribe to the festivals YouTube channel where all screenings will be done as well as all the social media handles to be updated.