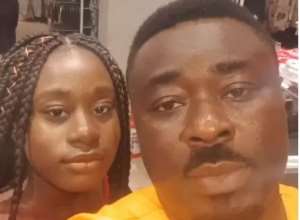 Ace presenter Okyeame Quophi teases Bishop Daniel Obinim in his birthday message to daughter Calister who turned 13 years today.
The excited father bragged about his potency as a man in a touching but hilarious message he shared on Instagram.
He said, "Happy Bday my Calista!!!When I called to the heavens for proof of how much of a man I am, God answered with you. Direct from heaven he sent you, not Obinim factory".
He seized the opportunity to encourage his daughter to stay true to herself while maintaining the highest standards she can attain as she advances in life.
"On this special day, I pray the expedited manifestation of God's plan for your life.13 is a big deal. Today has been long awaited. I wish you the best. Prove me wrong by proofing yourself right. You are the best. God bless you. Quophi Okyeame, Your [email protected]," he said.
See post below.